Carbon Panel | CP
$750.00
Our carbon technology is now available for use in small rooms that don't have the physical space requirements for our ACDA series to absorb lower frequency energy. Our carbon technology that has become so popular with our low-frequency product line is now available in panels that are not as deep as our ACDA units. With the same smooth frequency response starting at 40 – 60 Hz. and going through 6,500 Hz. it is a smooth low-frequency absorbing tool for absorbing unwanted low-frequency energy along the boundary surfaces in small rooms. At a maximum depth of 10″, it won't take up much wall space and gives you lower frequency absorption down to 40 Hz.
With carbon technology, you achieve a smooth absorption curve that is smooth in rate and level with a special quality of clarity that is not offered with foam or other absorption technologies especially the building insulation types that dominate the industry. If you are looking for a more natural rate and level of absorption that does not over absorb at certain frequencies and under absorbing at others, our carbon and foam technologies will give you that linearity you need.
Our 24″ w x 6″- 8″ h x 55″ l unit is finished in a painted or wood case and your choice of wood and fabric color and texture are available. Units weigh 175 lbs and are designed to be hung on a wall just like a picture would be.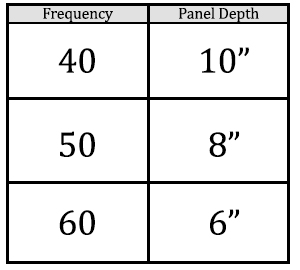 These units have special handling and shipping requirements, due to their weight and size. Please call us on 520-392-9486 or click HERE to contact us so we can assist you further.
Additional information
| | |
| --- | --- |
| Weight | 175 lbs |
| Dimensions | 27 × 60 × 10 in |