Since this blog was published, we have learned many new ways of communicating complex issues of physics in regards to Music Listening Rooms. Rooms acoustics which is based on the science of physics is complex and difficult for people to understand. We have learned through the years since this blog was written new ways to make the complex easier to relate to and understand. Updated on October 25th 2019 
A dedicated audiophile music listening room design is just what the name implies. It is a room solely dedicated to listening to music in. It is usually a two-channel system with a left and right channel along with the listening chair. The dedicated music listening room is not for any other use. It is not for playing pool or ping pong. It is not a home theater room with multiple mono sources. It is a room dedicated to the playback and enjoyment of only two-channel audio in all its splendor. Don't have one but want one? Let's go ahead and show you how to build a dedicated music listening room you'll use for years to come.
How To Build A Listening Room
Ideal Room Size
Our first step is to choose the correct room size and volume for your audiophile listening room design. We determine this by the music type we will be listening to. If we will be classical music-focused then we need to plan for frequencies that are starting at 20 Hz. and moving up from there. If our music choice is Jazz then our room should handle low frequencies down around 30 cycles. With rock music, 40 Hz. is a good beginning point. For this exercise, let us assume a classical taste and with that in mind plan for a room that can handle sound energy down into the 20 cycle region. With that low-frequency design parameter, we will be fine for all other music sources since designing for 20 Hz. will cover all other music type demands.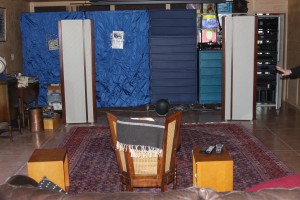 Is this a dedicated listening room?
Air In The Room Vibrates
Our room dimensions determine how much sound energy a particular room can handle. Think of our room as a large container that we are going to "pour" sound energy into. The size of our container determines how much energy the room will "hold" without splitting apart at the seams. It is the air that vibrates between our room walls that causes resonances. You can also think of the room as a shoebox. If your room is a size 10 shoe box a size 13 will not fit. We must not place more energy within the room as the room can physically manage.
Room Dimensions Critical
Our dedicated audiophile music listening room must be designed with the proper dimensions and thus room volume to minimize resonances. Resonances are sound energies way of telling us that they do not like the fit of the room. It is like buying a medium shirt when you need a large one. For women, it is like squeezing into a size 6 dress when you are really a size 10, something must give. The clothes will tear. The room will create resonances that can smother or blur and even exaggerate certain frequency ranges associated with our music choices. These resonances are room distortion
The following video we made explains this in more depth.

Ideal Room Dimensions
To minimize resonances in our audiophile listening room design, we need to look at our chosen 20 cycle wave as our low-frequency goal and allow for that size wavelength to run free. Our 20 cycle wavelength is roughly 56′ long. To calculate exactly, simply divide the speed of sound, 1130 by frequency 20. For our room purposes, we need to have space for one half of this wavelength, say 28′, to run uninhibited without slamming into a wall or structure. Therefore, we need at least one room dimension to be larger than 28′. Let's call it 30′ for discussion purposes.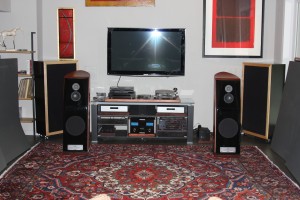 Is this a dedicated listening room?
A No Compromise Dimension
The wavelength travels down our 30′ length and then strikes the wall and begins its journey back to its source which is the opposite wall. It will fall short of the other wall because our 20 cycle wave is 56′ long and it is traveling 60′ total. It only strikes one wall and not the other. This minimizes resonances. To complete this resonance-free scenario, we need a room that is 30′ in all three dimensions. This is ideal acoustically with no compromises. Unfortunately, the real world and existing room sizes are much smaller and are nothing but a compromise that must be dealt with to minimize resonances.
The following graphic is a great starting guideline on room dimensions. We built, measured and tested 116 rooms of different sizes and dimensions in our test facility to come up with the rules you see below. This is a starting point, however, and if you would like us to analyse your room and compare to our database, please simply complete the form here.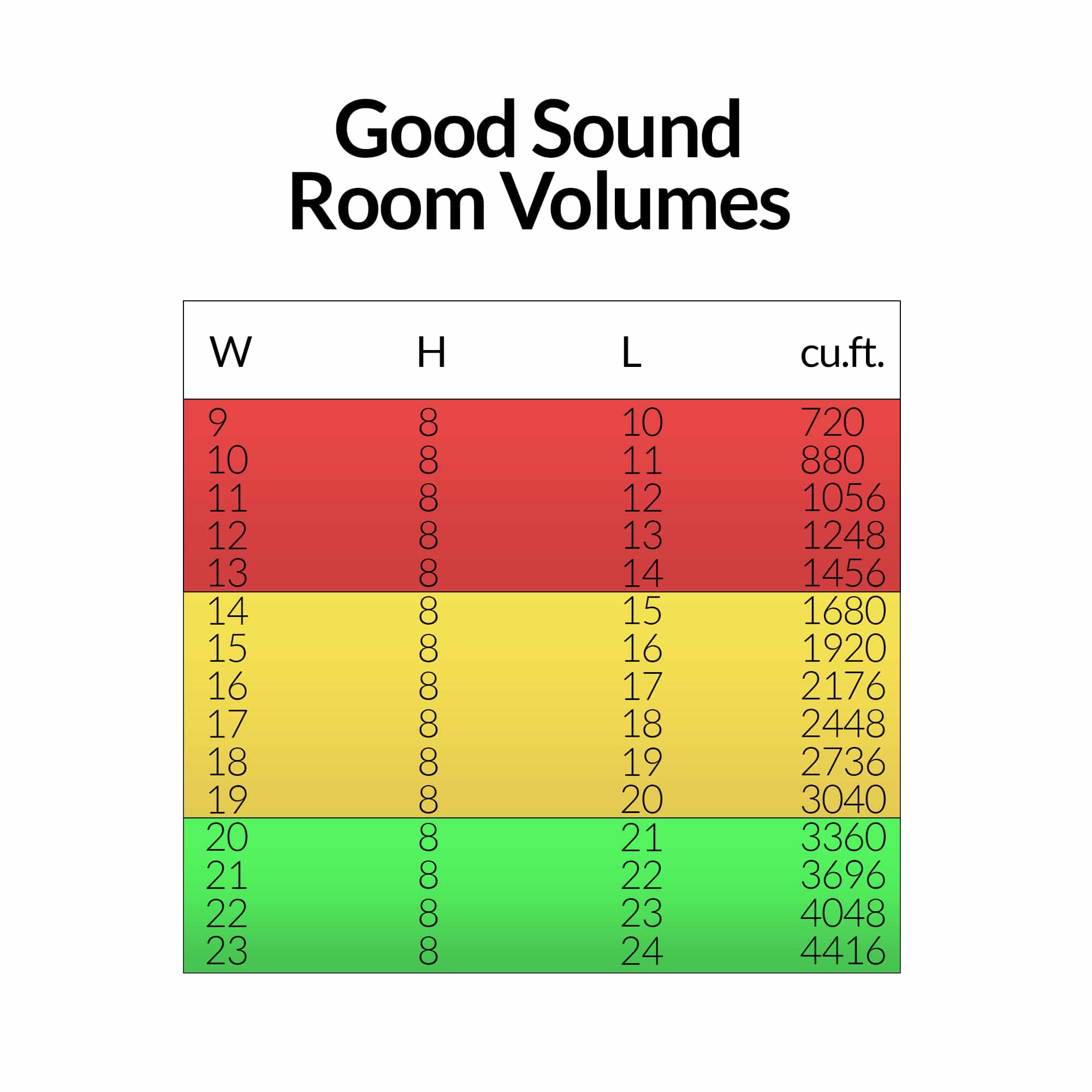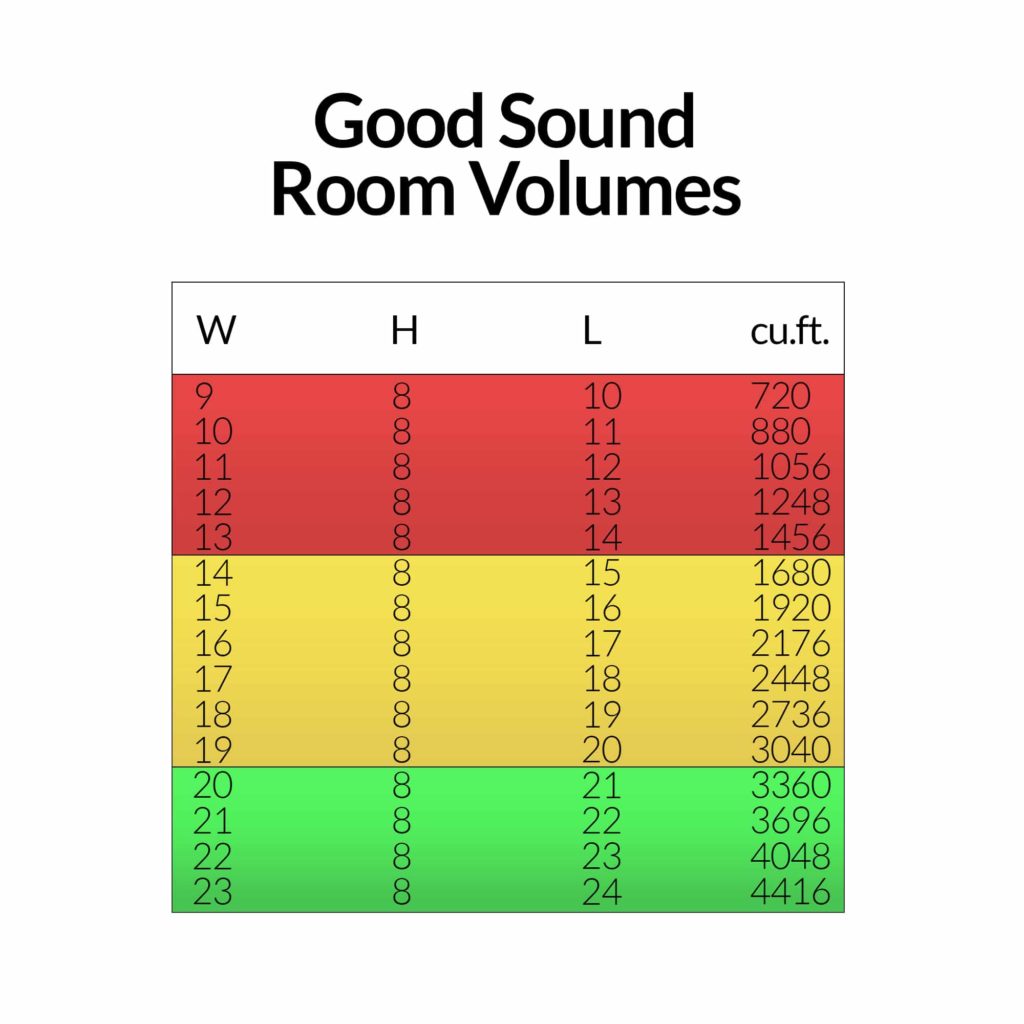 Room Ratios
There are a set of ratios that various individuals have proposed that do their best to minimize resonances but remember these are all compromises from ideal room size and volume. What compromises one is able to live with usually depends on budget and room location. Room size and the ratios of height, width, and length must be taken into consideration. We have seen from our example of a 20 Hz. wave that we need 30′ in an ideal situation to ensure that the air inside our rooms does not begin to vibrate and produce resonances because the air within the room is squeezed into a room dimension it does not like.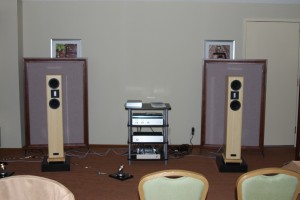 Is this a dedicated listening room?
Follow This Ratio
The literature is full of numerous room ratios of height, width, and length that will minimize those dreaded axial modes, resonances between two parallel surfaces in your audiophile listening room design. To simplify these ratios, one can use the ratio of 1:1.14:1.39. If we take these numbers in order of appearance, we have the ceiling height as our first number, the room length as the second and the room width as the third. If we put 10′ in for the room height in the first position, we come up with a room-length of 13.9′. Next, we keep our 10′ room height constant and calculate the room width to be 11.4′. Proper room dimensions will go a long way down the road in minimizing the type of low-frequency absorption we need to use.
This is your starting point in any audiophile listening room design project. You must find the proper size "shoe" box and place the correct size shoe (energy) into the box. If you follow some simple ratios you can start off on the right track.
This video we made helps explain the average listening level/volume you should listen to your music based on your room dimensions.

In part two of How To Build A Dedicated Listening Room, we will discuss proper speaker and listening positions and low frequency management along with reverberation times.
How to build a listening room part two
How to build a listening room part three
How to build a listening room part four
I hope this explanation helped. If you would like a free analysis of your current room plans, please complete the form on this page www.acousticfields.com/free-acoustic-treatment-room-analysis-tell-us-about-your-room/ and we will run a free analysis for you. Please leave any comments below so I can get back to you. Don't be afraid to hit those Facebook like, Google+ and Twitter buttons on the left hand side so other people can see this post. And if you want to learn more about this subject please sign up for our free room acoustic treatment videos and ebook which provide step by step instructions. Get instant access by signing up now.