We have updated our designs for Diaphragmatic Absorber technology to improve performance. We have updated the information in this blog to reflect these design improvements on 11 / 3 / 19.
Low Frequency Absorption- Diaphragmatic Absorber Low Down
Absorbing low-frequency energy in our small rooms is no easy task. We are speaking of energy below 100 cycles. Many companies will claim to have a "bass trap" that does absorb energy in this frequency range, but most do not work. They may go down to say 40Hz. but that is their level of absorption. Its the rate of absorption above that level that indicates the product's performance.
Diaphragmatic Absorption 
The biggest issue with a freestanding, low- frequency, the absorber is mass or weight. Manufacturers design units that are lightweight to keep shipping and manufacturing costs down. Lightweight construction means lightweight or no performance. You cannot stop long, low frequency, waves with building insulation in a cardboard box. You can not stop it with a tube that is hollow and lightweight. Low-frequency energy requires mass. Its like cubic inches in an engine, there is simply no substitute when it comes to horsepower.
Definition: https://en.wikipedia.org/wiki/Bass_trap
Helmholtz Resonator
There are two real-world ways to absorb low-frequency energy. These are time tested and proven ways used for many years by studio building professionals. One is called a Helmholtz resonator. This type of absorber uses a tube that has a certain length, depending on the design frequency we are trying to absorb. A slit is placed in the tube top and air enters through it and causes the air inside the tube "vibrating" thus producing absorption at frequencies above the tube's design frequency. A glass coke bottle is a type of Helmholtz resonator that has a resonant frequency of around 185 Hz. Frequencies above 185 cycles are absorbed and frequencies below are not.
Diaphragmatic Absorber
The second type of low-frequency absorber that professionals have used for years is the diaphragmatic absorber. A diaphragmatic absorber does not have an opening like the Helmholtz resonator does, it is a sealed unit. It uses the length or in this case depth dimensions along with other factors to determine the unit's resonant frequency. A diaphragmatic absorber is similar to a speaker cabinet in design and construction. The front wall moves in sympathy to sound pressure and the cabinet stays inert.
Sealed Box- No Sound Holes
A diaphragmatic absorber is a sealed box that has walls that are very dense and a front wall that "moves" in response to low-frequency energy that strikes it. Once the energy strikes the front wall, it is slowed in speed and then enters the cabinet inside. The depth of the cabinet and the internal cabinet fill material, all contribute to the total performance of the unit. The deeper the cabinet, to a point, and the density of this cabinet, all contribute to the unit's performance when chasing frequencies down into the 30 cycle range. Using our internal cabinet fill material which is our proprietary technology creates a lower pressure area inside the cabinet. A lower pressure area inside the cabinet causes the pressure wave to collapse.
In this video, our Chief Acoustic Engineer, Dennis Foley, explains the concept of diaphragmatic absorption in more detail.
Design Frequency
To build a diaphragmatic absorber, we must first decide what frequency or what frequencies we wish to absorb. As a general rule, the deeper the cabinet design, the lower the resonant frequency or sound-absorbing capacity of the unit. Let's start with a lower design frequency of 40 Hz. and go from there. There are formulas we can use to determine cabinet depth which is synonymous with the resonant frequency. For the sake of this discussion, let's choose a cabinet depth of 8″. This will be deep enough to achieve our 40 Hz. objective.
Build Size: 24″ W x 48″ H x 12″ D
Our cabinet needs to be 8″ deep to achieve 40 Hz. resonant frequency. Let's just use this for example and illustration. Actual depth limits are found by using the cabinet density and front wall thickness. Our cabinet also needs to be very strong or what engineers term inert. Inert means that it does not move or vibrate. You see this term in speaker cabinet tests. They place an accelerometer on the cabinet, play a signal through the speakers, and measure the vibration of the cabinet structure. We need to adopt this same principle in our diaphragmatic cabinet build. We need to make the cabinet rigid, strong, and vibration-free. We want the front wall to move, not the cabinet.
[bctt tweet="Want To Know How To Build A Diaphragmatic Absorber? #homestudio #acoustictreatments"]
High Density Materials
To achieve this inertness, we must use mass or materials that have a high density. Multiple density fiberboard (MDF) is a common material that has a high weight to area ratio. Choose the 1″ thick type. It is not available in all areas of the country. If you can not locate it in your area, you can use two 1/2″ pieces and glue them together. Better yet, place a layer of cork or some type of anti-vibration compound between each layer to assist the cabinet in minimizing vibrations. Let's start with a height of 48″ and a width of 24″ with our predetermined 10″ depth.
Front Wall Diaphragm
The front wall or face of our unit performs the opposite function of our cabinet design parameters. We want the cabinet to be inert, but we want the front wall to move. Remember, it is the front wall's duty to move in sympathy with the low-frequency energy that strikes it. This movement will help slow down the low frequency very long wavelengths that we are designing our unit to absorb before they enter the cabinet's inside. We have taken this design parameter and expanded upon it. Our new designs use two front walls that are out of phase with each other.
Thinner Material
Our front wall should be of a thinner material than our 1″ sidewalls. Let's use a 3/8″ thick piece for our front wall and a 1/2″ piece of MDF for the second wall. This will be thick enough to perform the function it is intended to do and also thin enough to move in response to low-frequency sound pressure. We must use caution in the method we use to mount the front wall to our unit. We want to mount it in a manner that will encourage it to "move". The goal of the two front walls is to slow the energy down so it can enter the middle of the cabinet.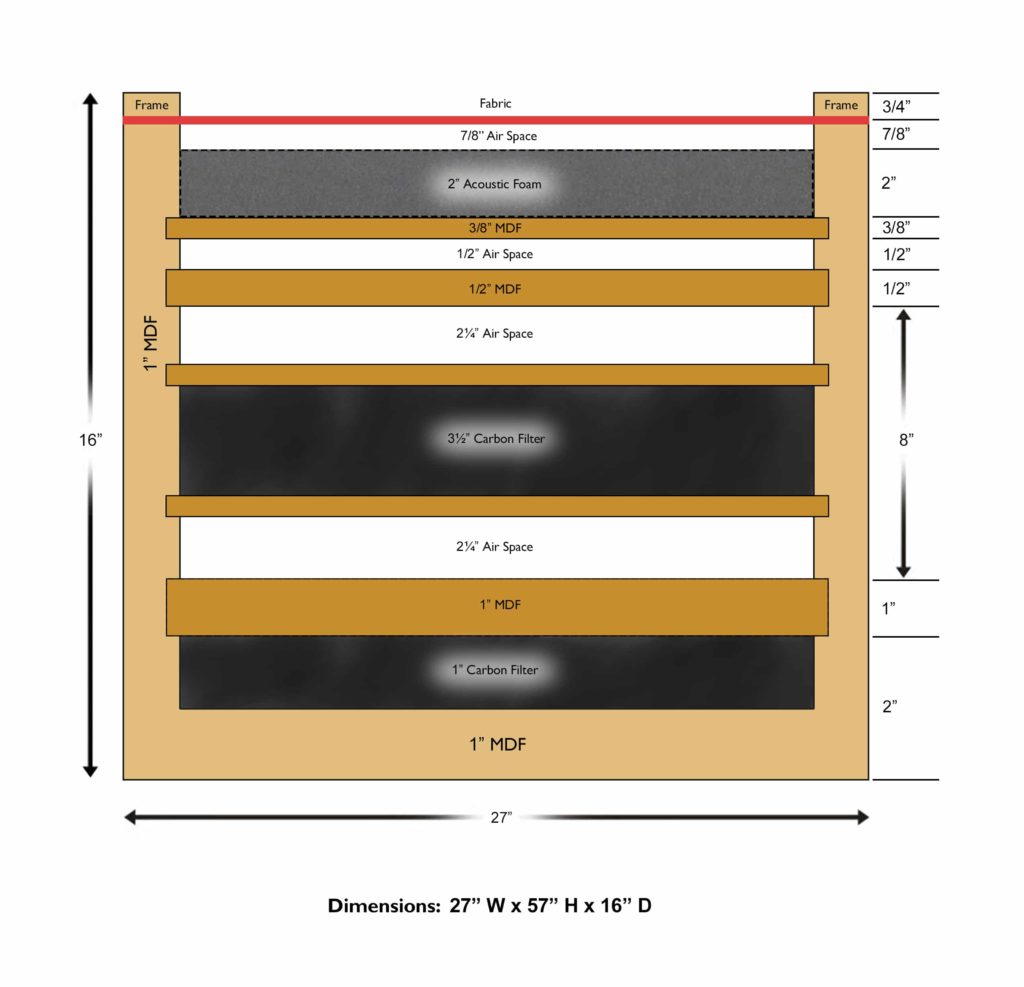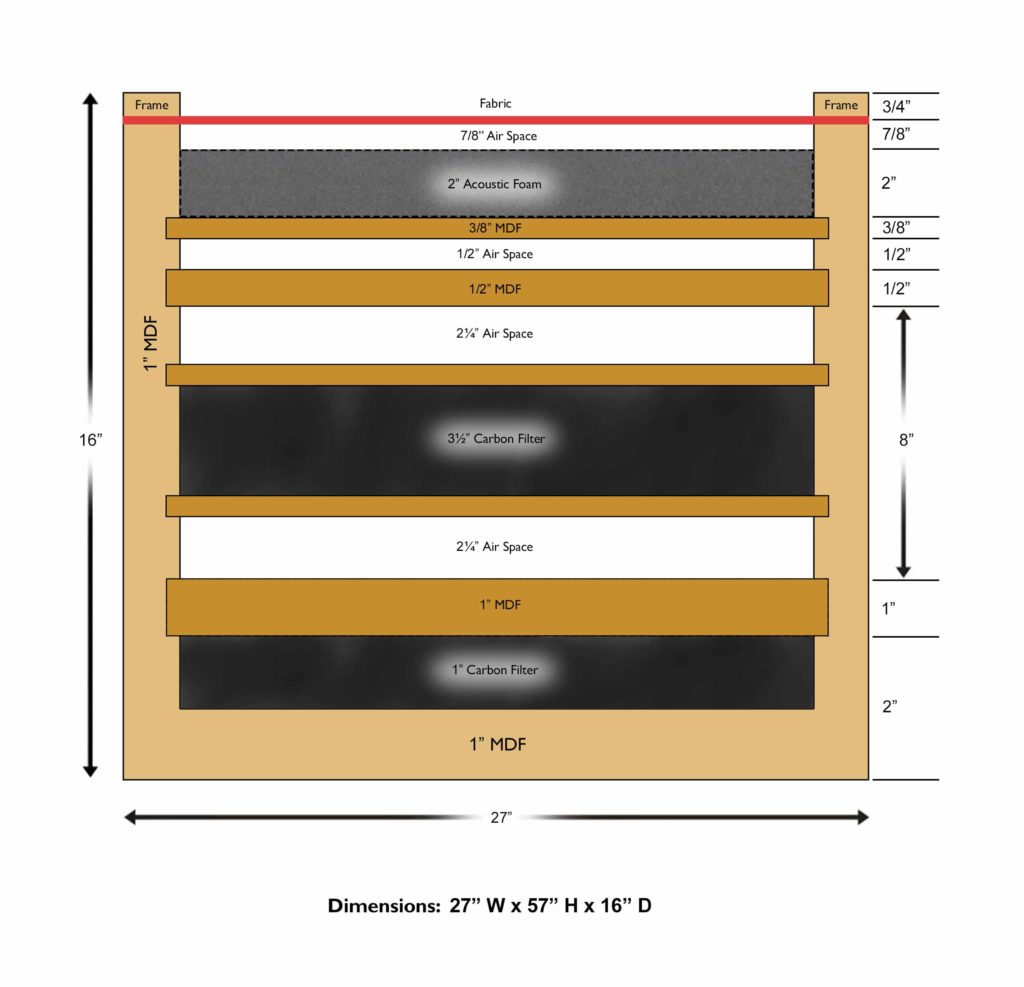 Front Wall Mounting System
When we mount the front walls in our unit, we should dado out for it to slide into the side walls. This will enable us to slide the front wall into the sidewall dado and keep a snug fit without the need to use any hardware. Remember, that this is a sealed unit with no openings to let energy in or out. Energy will strike the front walls, we have just installed, and then move through the front wall into the unit's center cabinet fill. The rigid sidewalls (1″ MDF) will encourage the thinner front wall to move more than the rear or sidewall panels.
In this video Dennis explains the difference between membrane and diaphragmatic absorbers:

Internal Cabinet Fill Material
The internal cabinet fill material should be of a high enough density that it will absorb the resonances that occur within the cabinet itself and also add to the overall unit's total absorption. We recommend that you use our foam https://acousticfields.com/product/acoustic-foam/or carbon technology. The carbon technology inside your BDA cabinet will increase the performance of each unit 100 %. You can obtain our proprietary carbon technology and foam from us directly. You can obtain our plans from: www.acousticfields.com/product/bda-broadband-diaphragmatic-absorber/
The Acoustic Fields DIY Broadband Diaphragmatic Absorber Plans
Diaphragmatic Horsepower
A diaphragmatic absorber will provide you with the mass and density you need to slow down low frequency energy using absorption. It takes mass to slow down the long wavelengths we are dealing with when it comes to low-frequency energy. It also takes an absorber that has the design parameters to deal with low-frequency energy. A diaphragmatic absorber can provide your room with the powerful techniques you will need to minimize the resonances you will encounter within your sound rooms.
If you would like a free analysis of your current room plans, please complete the form on this page https://acousticfields.com/free-room-analysis/ and we will run a free analysis for you. Alternatively if you want to learn more about this subject please sign up for our free room acoustic treatment videos and ebook which provide step by step instructions. Get instant access by signing up now.
Thanks