The following acoustic treatment case study focuses on our client George Grant of Putnam Valley Recording Company. George came to us with a problem he wanted to solve and who better to tell you about it than George himself. So please take it away George…
What is the goal with your studio? What kind of sound are you looking for?
When I decided to move my studio from Brooklyn about an hour upstate in New York, I realized I wanted to focus on my passion – retro soul and retro country music. New artists doing sounds from the 50's, 60's and 70's. I also realized a prime ingredient to the sound (beside the use of analog) was the sound of the rooms. In my new studio I am trying to create a sound of my own (ala Stax, Motown or Sun studios).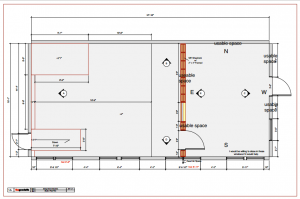 What did the room look like when you first got in there?
The room was a complete disaster. Basically an empty shell. I finished the control room and the smaller iso room BEFORE I hooked up with Acoustic Fields – unfortunately. It was too late for me to build my treatment into the walls for this portion of the studio – hence the stylish cabinets as the option!
Why did you chose Acoustic Fields?
I really liked what I was hearing from Dennis in his Acoustic Fields tutorials so I got in touch and began phase 1 of three in looking for that signature sound. I have to say I am extremely pleased with the way it has been going – Acoustic Fields has been both motivational AND inspirational, and even after phase 1 I can feel the sound in the room beginning to take shape. Dennis at A.F. is taking me through the process step by step and in the end I think I'll have a perfect room with a very unique sound.
What have you got lined up for the studio?
Long term I have started the Putnam Valley Recording Company – our motto being "purveyors of fine retro soul and retro country records". I'll being doing a 45 vinyl single every month or two with various artists. Alternating country and soul and a little mixing of the two. I have lined up two full bands and supplemental players for each style and I think I'll also have the chance to mix and match musicians as well. It's very exciting for me as an engineer, producer and songwriter. That's why I wanted to trust my rooms to Dennis and Acoustic Fields.
What have you been working on most recently?
My band the Mighty Templars just released a record this July 1st and I wish I had done it in my new rooms. The next recordings will definitely be done in the new AF rooms.
What gear you using in there?
Right now I'm using a Mac Mini and Macbook Pro running Logic X. I also have an Yamaha RM800 mixing board dedicated to a Tascam MS-16 1″ Analog machine – that I use for "special occasions". I plan to covert to an Endless Analog clasp system for my analog setup by the end of 2014. My monitor system is a pair of JBL LSR6328 with a Sub.
I primarily use an Avalon 737 SP for most of my vocals and I also use a liquid channel Mic modeling pre quite a bit. My current digital interface is a Motu 896 Mk3 Hybrid. It sounds pretty good – but once I start exclusively using tape my sounds are REALLY going to pop.
I have a pretty extensive catalog of in house guitars and basses for various tones, and I own about 15 tube amps as well. I only have one solid state amp – a Roland Jazz Chorus.
Acoustic Treatment Case Study – The Acoustic Engineers View
Dennis Foley: With Georges' room we had an engineer/artist who wanted to achieve a particular sound for his low end. He wanted to achieve a tight and defined low end with the proper rate and level of absorption that would produce George's definition of "good bass". With this as our final objective, I looked at the dimensions and construction methodology within his room.
We had wood and frame walls with enough thickness and density that we were going to be able to contain enough energy to get George pointed in the right direction. Containment of enough energy in order to manage that energy and allow for it to stay in the room if it will behave itself. It was our job at Acoustic Fields to make sure that it did what we told it.
Examining the shape of the room, one thing immediately jumped out. The ceiling started at a good height of 9′ but then cascaded down into a 6′ height. From an acoustical perspective anytime you gradually restrict the volume of a space over distance, you create extra stress on existing 9′ impacted modes and then what was not an issue becomes a large problem. This room area must be analyzed and treated with the correct frequency absorbing technology.
At a 6′ high ceiling dimension, frequencies from 30 Hz. – 100 Hz. were immediately in play and they were large in amplitude. There is only one sound absorption technology that can handle this kind of pressure at these high levels. Diaphragmatic absorption was designed with extra carbon fill to handle the denoted high pressure low frequency issues.
Five units were built for this area. These were custom units at 10 sq. ft. each in individual surface area. We needed 50 sq.ft of < 100 cycle absorption for this small ceiling height dimension. We also needed a high rate of absorption because we were dealing with + 12 - + 15 dB unwanted pressure areas. With diaphragmatic absorption, not only can you achieve the resonant frequency you require ( 30 Hz.) but you can tell the unit how fast it needs to absorb at by varying the depth of the activated carbon filters inside our units.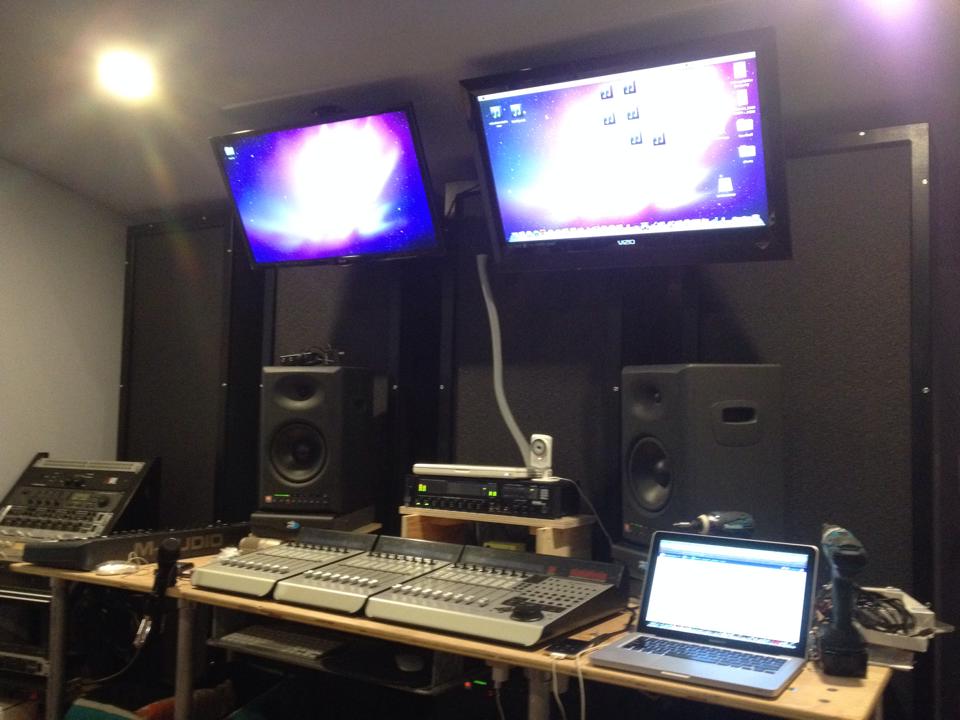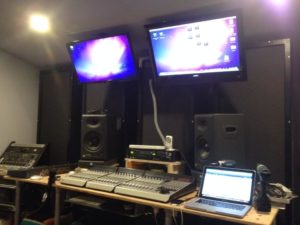 George had as one of his design goals, a room flat down to 30 Hz. When you see a ceiling slope down from 9′ down to 6′, you immediately realize that this is not going to be easy. It can be done using our carbon absorbers, but you will need to give up a certain amount of space in order to Achieve a flat response in a room of this size and volume. We will need to build more than 5 units and look to other room areas for treatment, specifically the shorter room width dimension. This short ceiling area is our start point and we will move down the other surfaces to achieve George's goal as time and budget permits.
Stay Tuned For More Updates
So stay tuned for more updates on this acoustic treatment case study as we look to complete the full build out over the coming months. If you have any questions about your own studio or design ideas, don't hesitate to get in touch my calling me on 520 – 392 – 9486 MST or email dennis@acousticfields.com. In addition, if you would like to learn more about room acoustics then feel free to sign up for my free room acoustic treatment ebook and private video series here.
Thanks
Dennis