Sound insulation for the ceiling needs to be much more defined before we can identify a problem and then offer a solution that works and is 100% fixed and 100% right. What are we insulating from when we say sound insulation for ceilings. Are we looking to absorb sound energy within the room? Are we "insulating" from noise. We must first define our terms, so we can have comprehension and understanding. Lets define sound insulation for ceilings as absorbing the energy or sound within the room itself. We will then address sound as noise transmission through the ceiling and those who are searching for both meanings and definitions will have a choice. Let's use sound insulation for ceilings as absorbing energy for this paradigm.
The floor to ceiling dimensions are the shortest of the three that it takes to create a rectangular room. The shortest distance in any room creates the largest amounts of issues within the room itself. The floor to ceiling dimension being the shortest will produce many unwanted lower frequency pressure issues called room modes. These modes between the floor and ceiling blur and smear the sound of our vocals and music. The lower frequency pressure issues act as "mud" and "soup' and cover our vocals and interfere with our music. To treat these unwanted low-frequency pressure issues, we must cover either the floor or ceiling with the proper type and amount of treatment. We will not use sound insulation for ceilings in this approach. We will use sound absorption inside the ceiling structure or build our own support structure to place the low-frequency sound absorption technology within.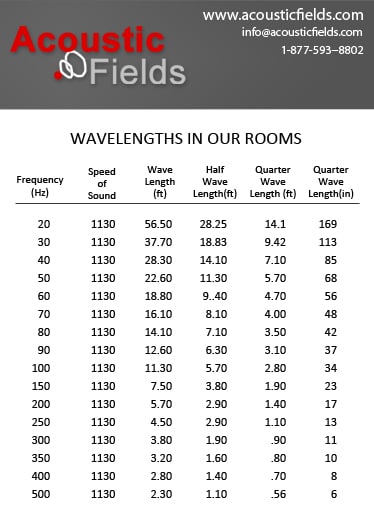 If we are going to use the definition of sound isolation for ceilings as a barrier technology to reduce the transmission of noise from one room to another, we will have to use another material type. Building insulation material types are designed to keep your room warm or cold. They were never designed to reduce the transmission of noise. They are what is termed limp mass material type. They are what the category name implies. They are a soft compliant material type that lacks density or mass. They are designed to offer what we call in the business BTU retention. They are designed to keep warm and cool air inside your room and keep the warm and cooler air outside of your room. These limp mass material types lack the mass or density to stop low-frequencies and are ineffective at reducing the transmission of noise from structure to structure.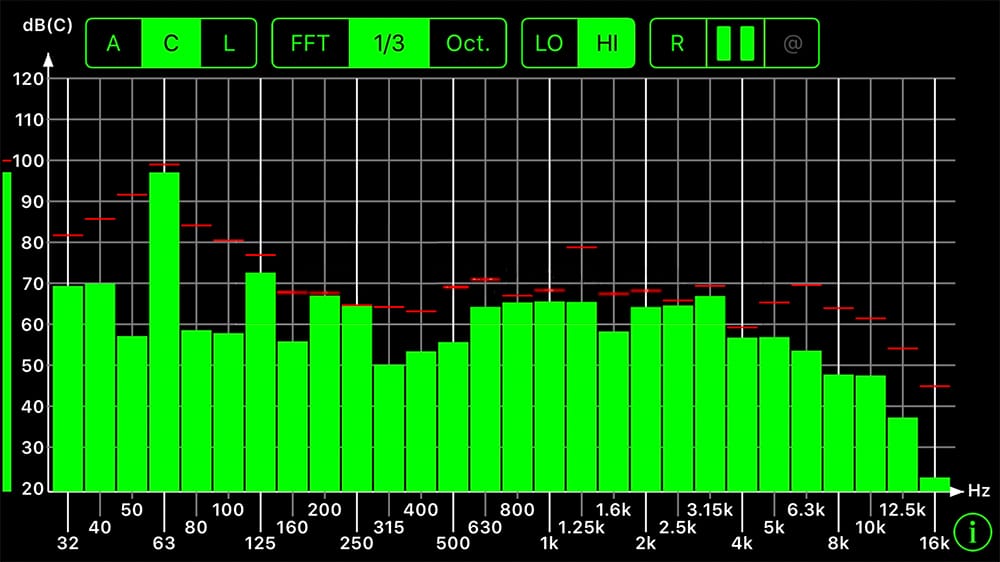 The first step one must take in dealing with any noise issue is to measure the frequency and amplitude of the noise. Frequency is the name given for how low or high the energy exhibited is on a scale. The units are expressed in hertz. A 200 Hz. wavelength is 5.5′ long. A 30 Hz. wavelength is 38′ long. Both of these wavelengths need to be treated differently when it comes to noise transmission. A 200 Hz. wave is right in the middle of the human voice. A 30 Hz. wavelength is one of the lowest frequencies produced by a bass guitar or drum kit. Since frequencies run from 30 Hz. – 20,000 Hz. we must measure the noise frequency but also the strength or amplitude of the frequency. It is the frequency and amplitude or strength that determines what material we will use to reduce the noise transmission. We can measure noise frequency and amplitude using our cell phones.
We have a process where you use our apps and take the noise readings per our instructions. You will download the apps on your phone and then proceed to take the noise frequency and amplitude readings with your phone. You will take the noise readings each day for seven days so we can get a complete picture of the noise throughout the week. You will then record the data on a data sheet that we provide and send to us. We will analyze the data you took with your phone and then design the proper barrier to treat your specific noise issues. You can take the build drawing and then build it yourself or hire a contractor to build it for you. All of our designs use standard construction techniques and standard construction material types.
Design Services: https://www.acousticfields.com/sound-barrier-technology/
About Us At acoustic Fields: https://www.acousticfields.com/about/