Turn Your Walls Into Bass Absorbers
Acoustic Fields new Absorber Wall, with our activated carbon absorbers, provides for in wall, low frequency absorption, throughout all wall surfaces in a new construction setting or a remodel. We analyze your needs and provide you with drawings indicating proper placement in your room. You install the filters between the stud space and place the surface material over the filters and studs to achieve broadband, low frequency absorption starting at 30 Hz. and going through 100 Hz.
Activated Carbon Filters Turn Your Wall Into Bass Absorber
Easy To Install
Our activated carbon filters are easy to install. Position the filter in the position in the stud space that our drawings indicate. We analyze the room and determine for you where to position the activated carbon filters in your wall for maximum performance.
Install Between The Studs
Secure the filter between the studs and screw through the studs into the filter's frame. When you install the filter in the stud space, you stiffen the wall and thus increase rigidity. This increased rigidity, reduces the diaphragmatic wall movement to sound pressure. This is especially critical in low frequency absorption.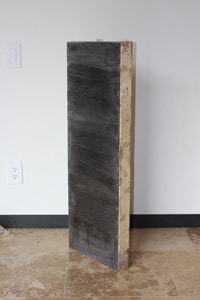 Activated Carbon (Charcoal) Filters
Activated Carbon Filters
Each of our activated carbon filters weighs 60 pounds. There is 50 pounds of activated carbon in each filter. Our activated carbon is treated to prevent moisture absorption as a result of humidity to insure maximum sound absorption.
Easy Installation Positioning
Our activated carbon filters can be placed horizontally as well as vertically to achieve our desired low frequency absorption objectives. Correct filter placement is determined by areas of highest pressure in the room. The pressure is affected by the amount of sound energy injected into the room by sources. Now with our Absorber Wall, one can have wall to wall, bass control without large, bass absorbers placed throughout the room.
High Absorption Rates And Levels
The graph below shows the rates and levels achieved by our 8″ deep wall with standard drywall face and back. Greater rates and levels can be achieved with deeper wall cavities and denser wall front and back surfaces. Contact us for your own particular needs. The second graph shows a 10″ deep wall cavity with two 5/8″ drywall on both front and back of wall.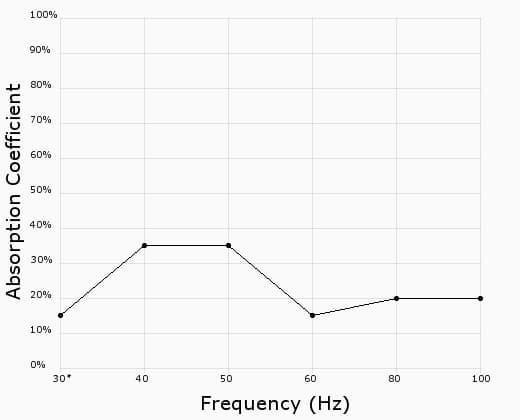 8″ Deep Wall Performance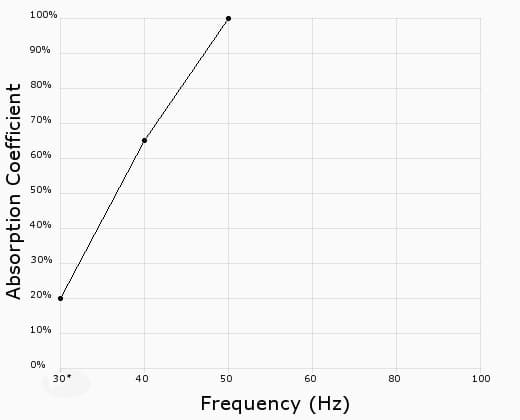 10″ Deep Wall Performance
LISTEN TO THE MUSIC WITHOUT HEARING THE ROOM