Acoustic Fields is the premier solution to the acoustic problems in your studio. Acoustic Fields' product line focuses on absorption and diffusion products for listening rooms, home theaters, and professional recording studios. Acoustic Fields' products are unique in many ways.
First, our low frequency or bass absorbers absorb at rates and levels never before achieved in a freestanding unit. Bass issues in your room can now, finally be addressed with our unique, activated carbon (charcoal) bass absorbers. This technology took 18 years to develop and can now be installed in a new construction or remodel situation. One can now turn your whole wall into a bass absorber, with no need to have numerous freestanding units sitting in the room.
Graphic Display of Test Results for Low Frequency, Activated Carbon, Diaphragmatic Absorbers (ACDA – 12)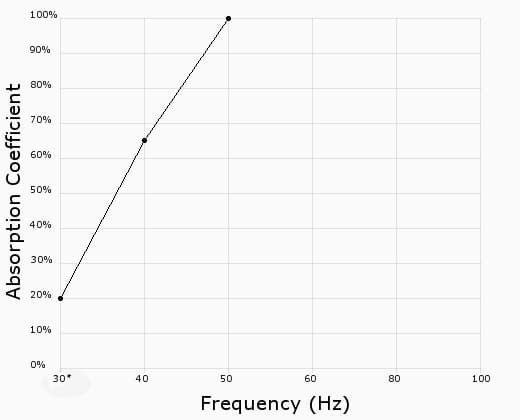 Riverbank Acoustical Laboratories test report for ACDA-12
Our proprietary foam technology took eight years to develop and its impetus came from 20 years of building and designing upper scale office buildings. There is no foam technology that has a smoother absorbing curve and which works so well with both voice and music.
Diffusion technology, especially quadratic diffusion, has been our go to technology for diffusion. We have over 15 years experience in the application of this time tested and proven technology. Quadratic diffusion is real sound diffusion. Most products today are sound redirection, not sound diffusion.  We know how it performs on all room boundary surfaces for both voice and music applications.
So give us a call on +1 877-593-8802 or email us at info@acousticfields.com for more information. Our products and technology are real solutions to your room acoustical issues.