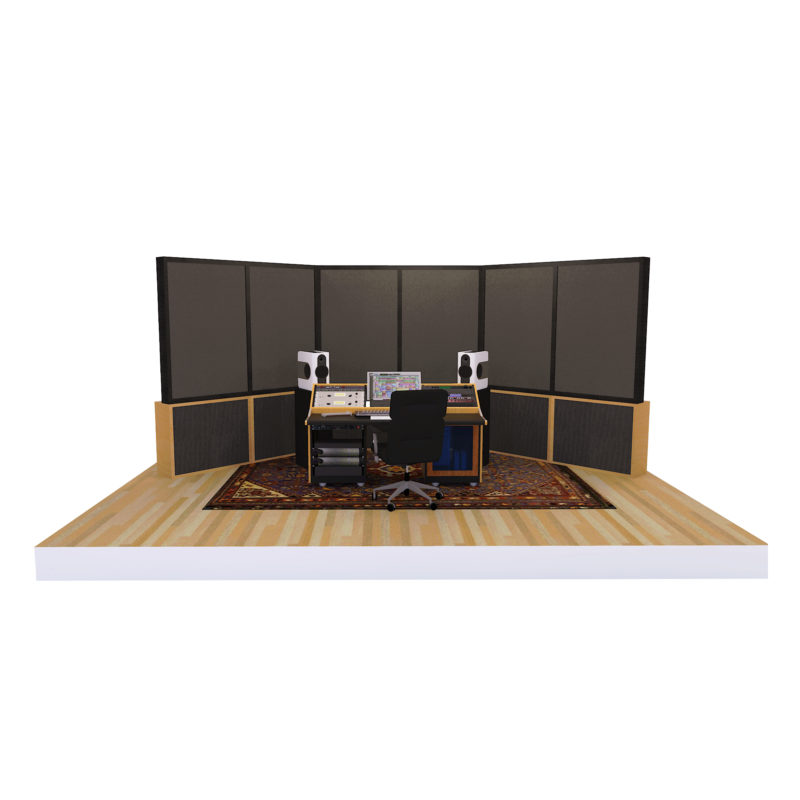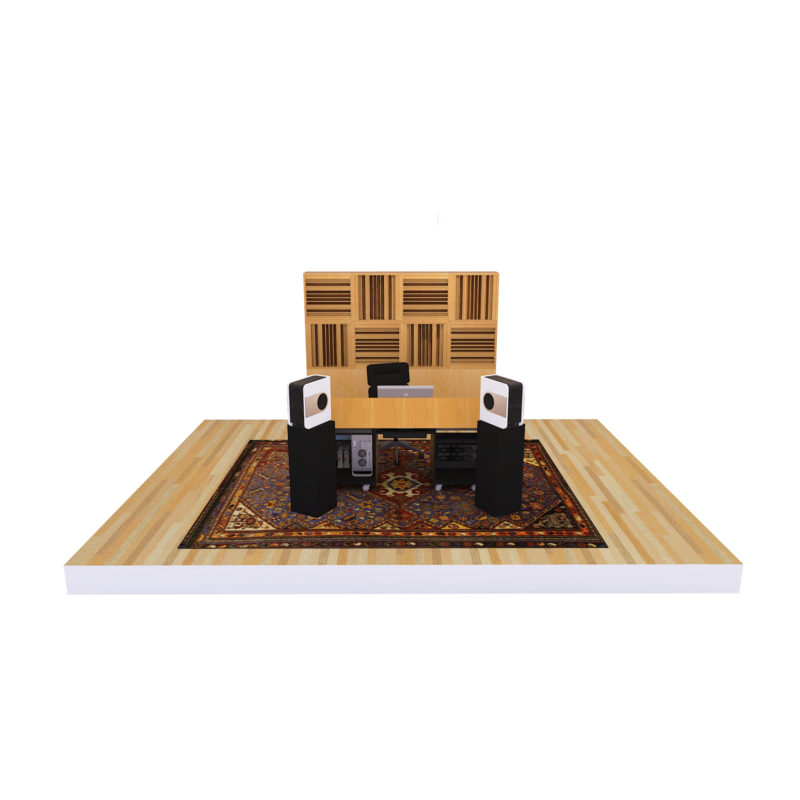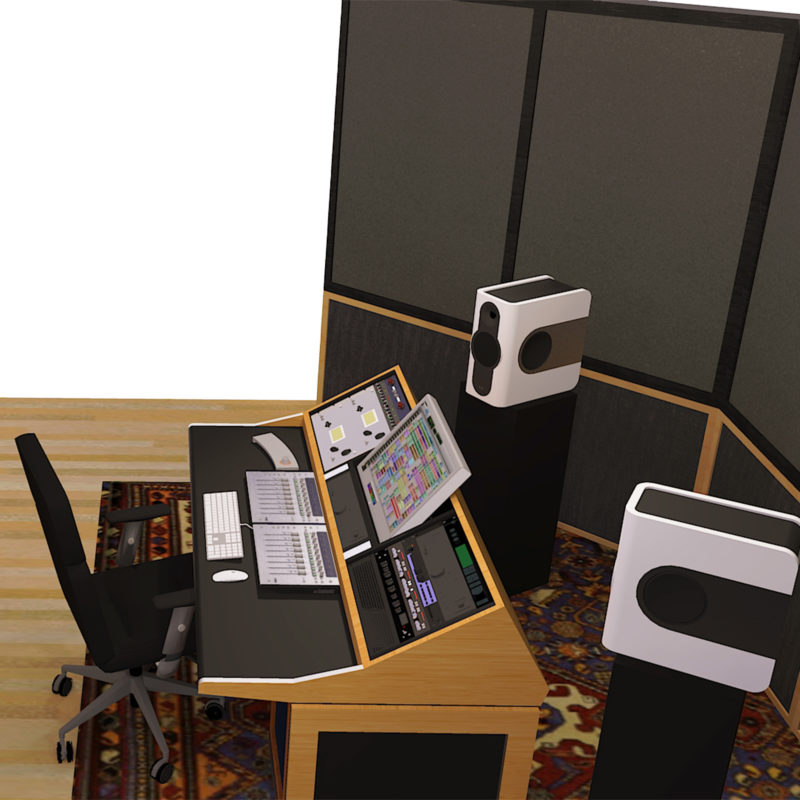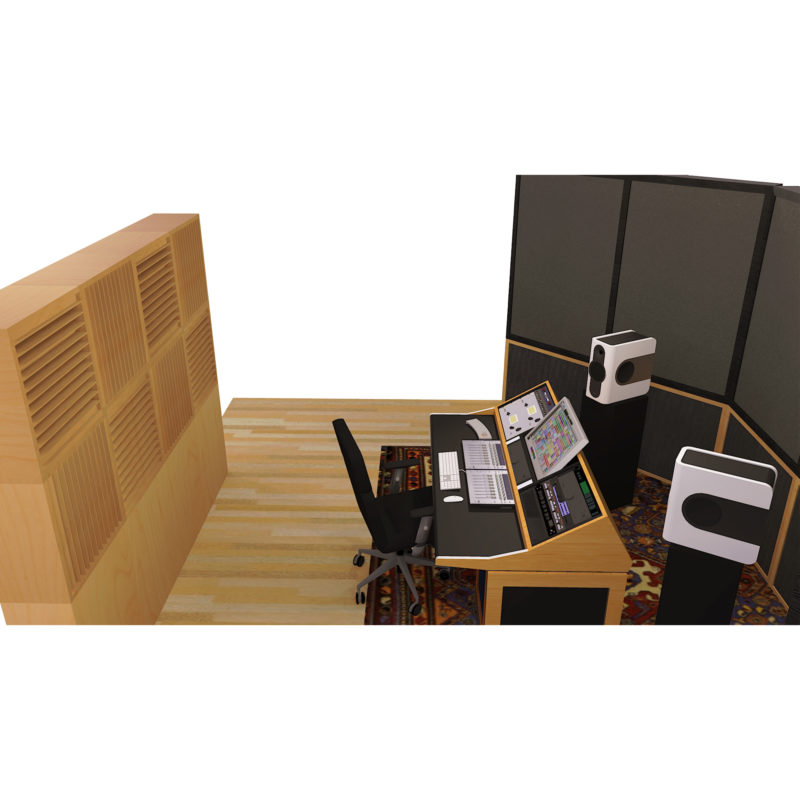 Wing Series | DAW
$8,500.00
Small rooms have large low, middle, and high frequency issues. Unfortunately, the only way to treat those issues is to make the room smaller by adding treatment. You must have low- frequency diaphragmatic absorption for unwanted low-frequency pressure along with our foam technology to manage sidewall reflections at the mix position.
The front wall and sidewalls are the three surface areas that must be managed correctly. We must reduce the amount of unwanted low-frequency energy by placing enough surface area coverage of the proper technology along the front and both sidewalls.
We have used our ACDA – 12 modules to absorb 30 – 50 hz. energy along the front and sidewalls. We have increased the carbon filter depth inside each module to increase the rate of absorption for each module. On top of the ACDA-12 modules is our perforated absorber which extends down to 65 hz and goes through 6300 hz. We have provided enough square footage of treatment coverage with our DAW winged series to provide a 60% resolution of those three wall issues. More resolution can be achieved by adding more modules. This is a good starter package for the hobbyist or semi-professional.
The ACDA-12 modules are 38″ w x 30″ h x 12″ d and weigh 130 lbs each. Numerous paint finishes are available for both the ACDA series along with the CPA. The CPA is 76″ w x 56″ h x 7″ deep and sits upon the ACDA bases. There are 6 ACDA-12 modules and 3 Perforated Absorbers in this front of the house package.
The rear wall diffusion option comes with our QDA-14 diffuser/absorbers arranged in a two dimensional array to minimize reflections at the rear wall and make the rear wall disappear. They sit upon the same ACDA-12 modules as the front and sidewalls described above. Diffuser are cherry wood for optimal mid range tonal quality.
The diffuser modules are 24″ x 24″ x 12″ d. The QDA-13 has our carbon technology, ACDA-10, on the inside of the diffuser. Each diffusion module weighs 80 lbs.and is finished in cherry wood to produce the best middle range frequency tone. The ACDA-12 bases, which the modules sit upon, are 48″ w x 30″ h x 12″ d and weigh 170 lbs each. There are two bases and 8 diffusers in the rear wall package.
These units have special handling and shipping requirements, due to their weight and size. Please call us on 520-392-9486 or click HERE to contact us so we can assist you further.
Additional information
| | |
| --- | --- |
| Version | Front Wall, Front + Rear Walls |