Ideal control room ratios have not changed in 40 years. However, with the update of our technology, we can now dial in with new ratios. Updated on October 18, 2019
One thing that gets brought up a lot is customers asking about ideal control room dimensions. Last week I was asked by Han about room size ratios. "Can you tell me what kind of ratios are good for control rooms and what's bad? Even if it's just an approximation that would be great."
With control rooms, listening rooms, live rooms, vocal rooms, there are sizes that are unique and different for all of them and they all have their own kind of minimum ideal situations. Then with that as your benchmark, you can work this to go smaller or go a little bit larger. Let's get back to our friend's question about ideal control rooms.
The rule with any room is to get it out of the way so it doesn't interfere with what you're doing. In an ideal world, we wouldn't have to work in a room but unfortunately, we do. When we have a room, we have room distortion issues that we have to deal with.
For a control room, we have large low-frequency pressure issues because we listen to full-range music and voice. Engineers have to listen to how all of this energy presents itself with their small rooms. Some studios even have small monitors that they mix upon, large monitors that they play backup on and they like to hear how the music that they produce sounds in both formats. Both speaker sizes because those speaker sizes are representative of probably what their customers are using to listen to their product. It's all about translation.
Our Recommended Control Room Dimensions Ratio Is…
For ideal control room dimensions, the best thing to start with is a dimension that we keep in our minds all the time, as kind of an ideal control room or a listening room. It's 17 and a half wide, 10-foot-tall, 23-foot long. That is a great start that will go a long way to minimizing the real serious pressure issues that we would have to treat and that would have to take up a lot of space to treat. There are points where we can treat almost any issue with the room if we have enough space to treat that issue.
This room size and volume for a control room is a minimum. Look for dimensions that are larger. Look for ceiling heights that are 12-13′. The floor to ceiling dimension is the smallest of all three dimensions and that small distance produces large low-frequency issues. These low-frequency issues will need low-frequency treatment and that treatment type and the amount required takes space. Low-frequency management that goes down to treat 40 Hz. problems are 10″ deep. low-frequency absorption technology that goes down to 30 Hz. is 16″ deep.
ROOM SIZING RATIOS: https://www.salford.ac.uk/research/sirc/research-groups/acoustics/architecture-and-building-acoustics/room-sizing-for-studios
See the red, yellow, green chart below. These are room sizes and volumes that work with treatment requirements. The red zone room is all absorption since you will have so many low-frequency issues you must treat all 4 walls with low-frequency management that is at least 10″ deep. The yellow zone gives us space to treat the issues and even the distances to use diffusion. Diffusion is a technology that makes a small room sound larger. The green room is ideal in many ways. It has the size and volume to allow for low-frequency management of all issues along with the distance requirements for diffusion to work properly.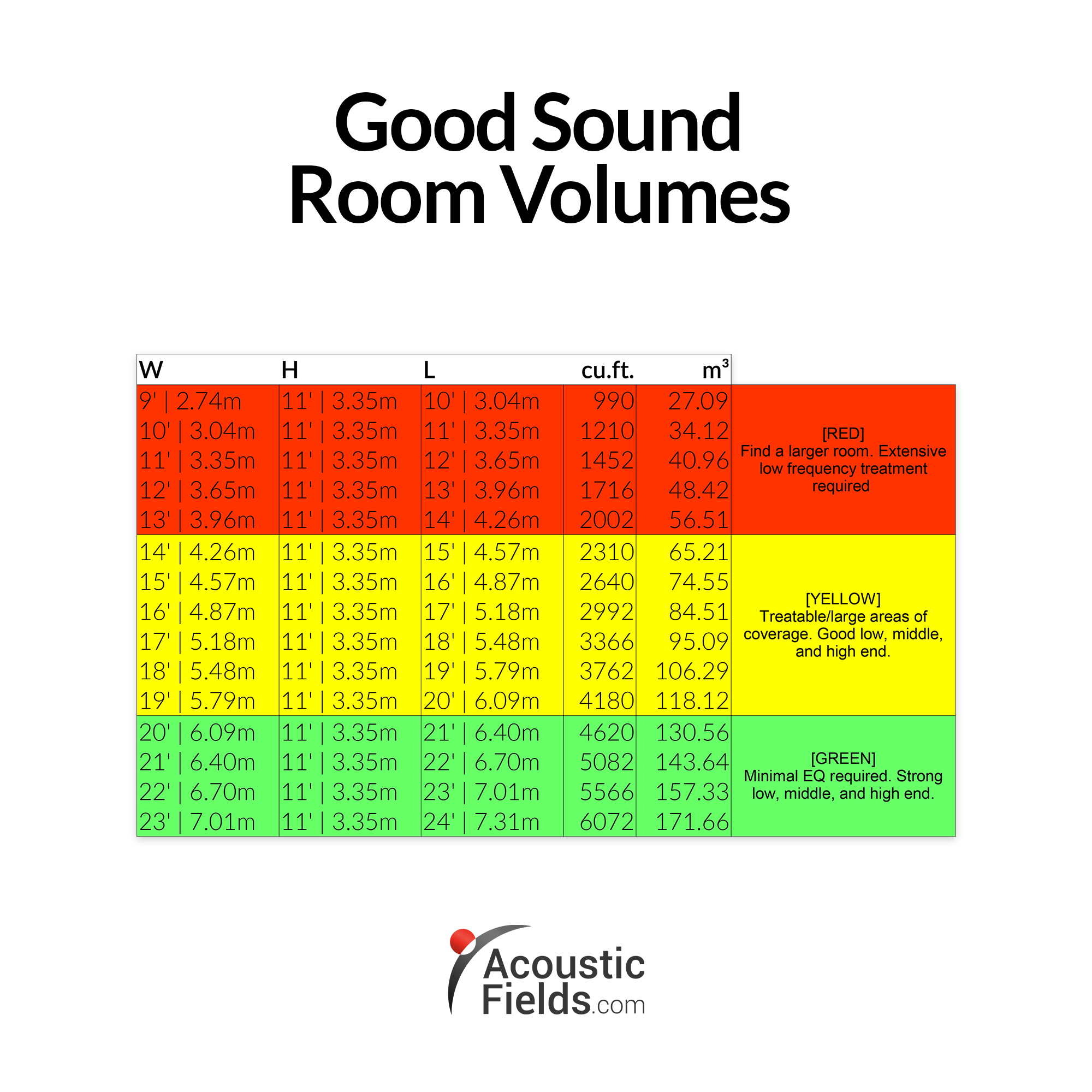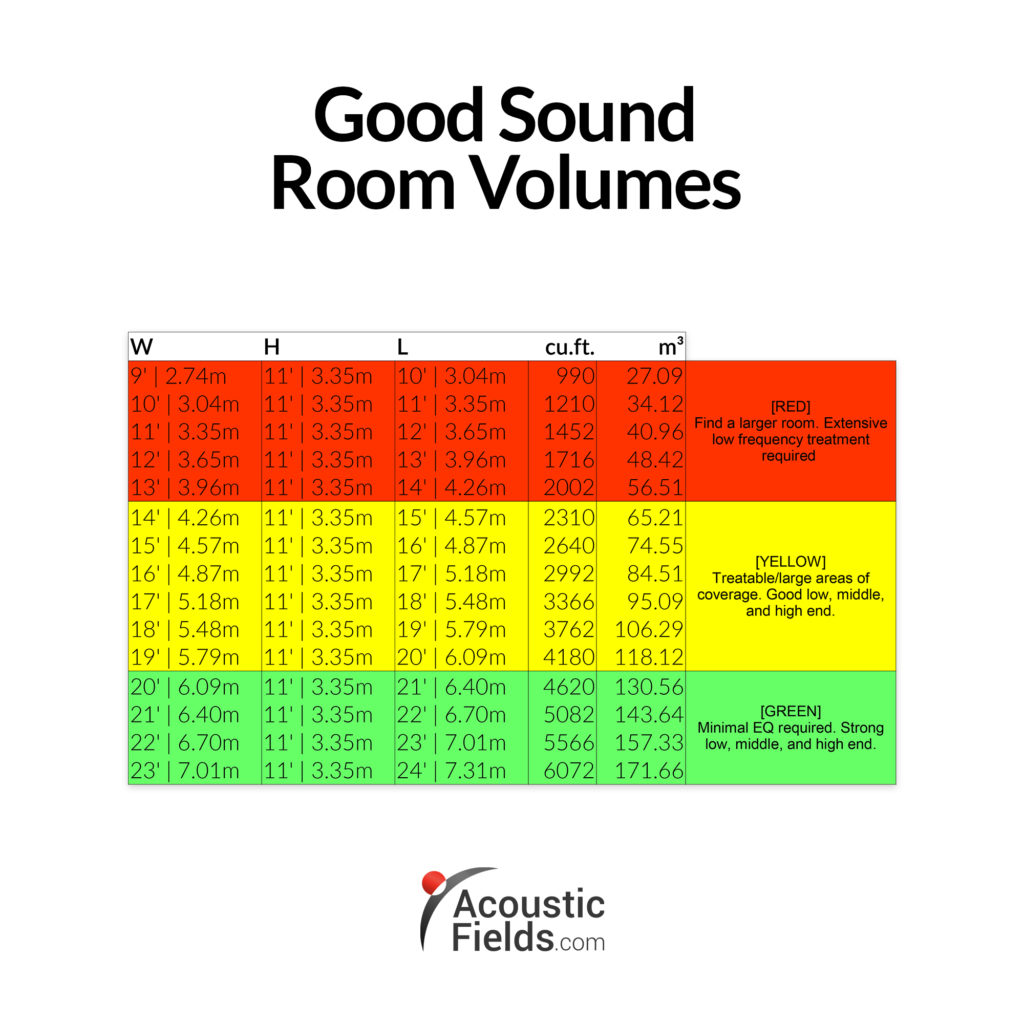 Unfortunately by treating the issue we make the room smaller. That may or may not be good for you as the end-user, so the bottom line here is we have to figure out how to get the largest room that we can, without having to do a lot of treatment. Now realize that we still have to treat some of the space but let's try to get the biggest footprint we can, the best ratios and the best volume that we can so that our treatment issues don't consume so much of the space of the room and that's in our database.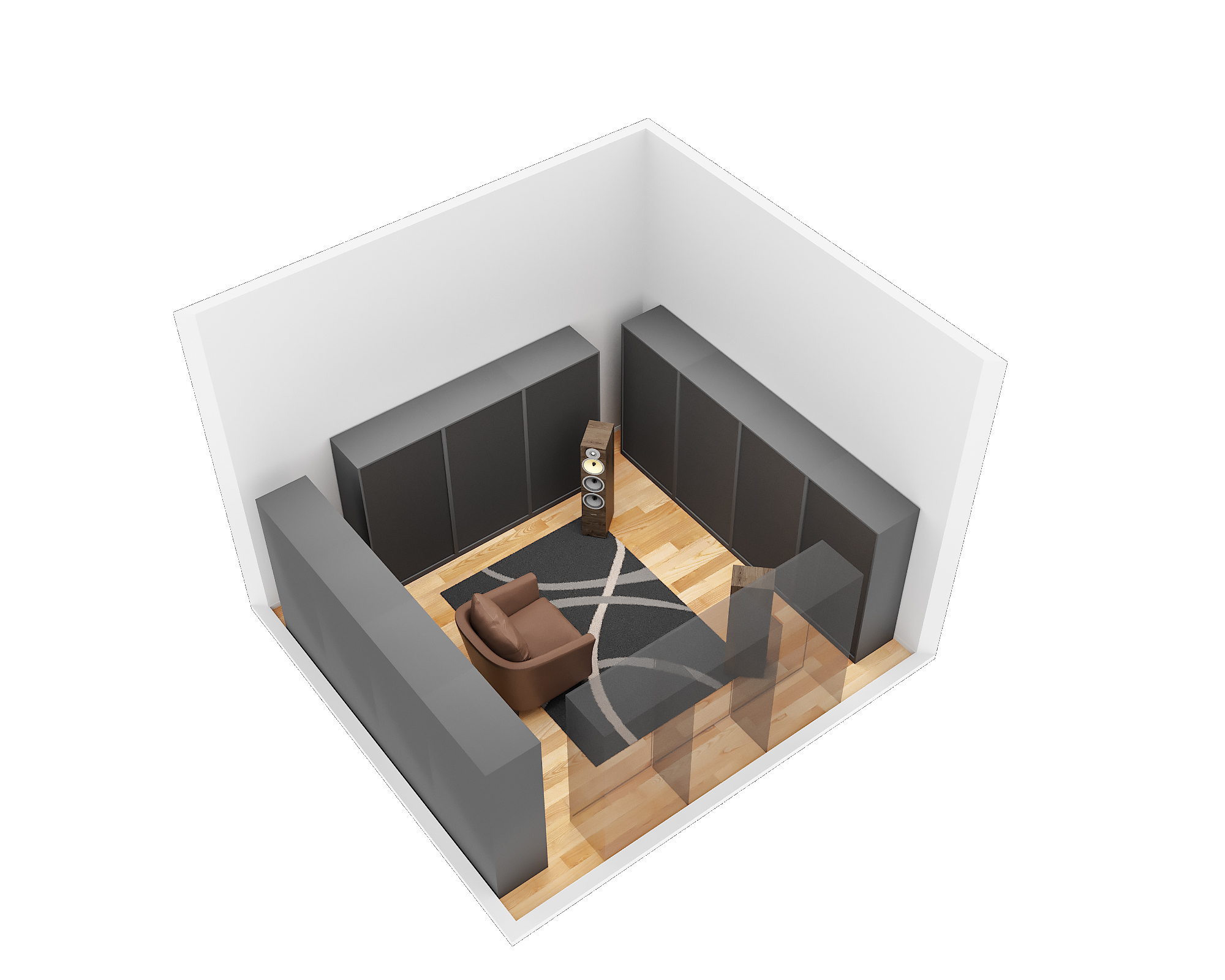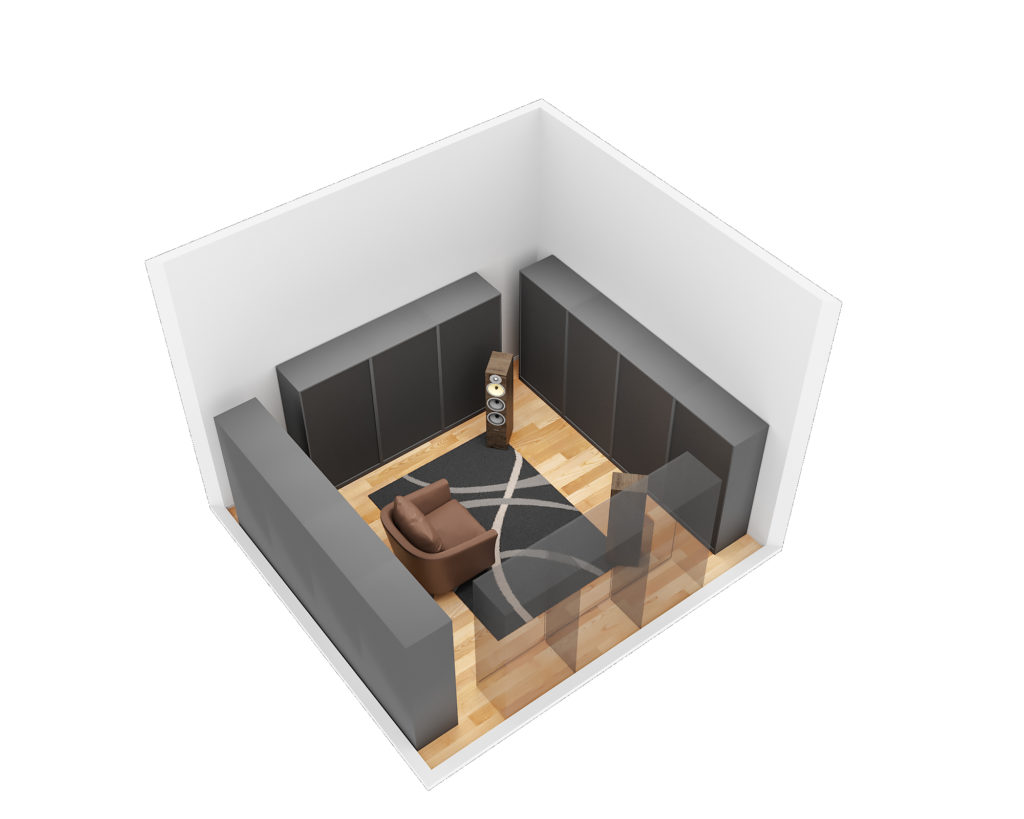 [bctt tweet="What Is An Ideal Control Room Dimensions Ratio? #audioengineers #producers"]
That's why we have these three groups of rooms because there are breakpoints that the amount of space you have to give up to treat the problems that the room has because of its size and volume makes the room so small that it becomes unusable and then you pass that room distortion barrier by getting so small that the room is just not usable for audio at all and there are breakpoints like that. A 10 – 12′ ceiling height is good in a control room and the 17 or 18-foot width is wonderful. Even with splayed walls, right-angled walls for reflection management, the angled ceiling for reflection management, a diffused rear wall for reflection management, these are ideal control room dimensions.
ROOM SIZE RATIOS: https://radiobombfm.wordpress.com/2012/09/15/sound-101-the-golden-acoustic-ratio/
It's a good start to mention but just send me the dimensions that you have to work with. Give me the largest footprint that you have available and then I'll work from that number and see what we can accommodate. It is always best to work down from the largest footprint you have to work with. With the largest footprint, you have the flexibility to adjust width and length ratios to complement the ceiling height which is usually a fixed dimension. We can usually widen or lengthen a room but it is difficult to increase the height. Finding the correct ratio of width and length to go with height takes pairing many different lengths and widths.
What's a kind of starting point as far as an absolute 'no' in room dimensions?
In North America it's eight-foot ceilings, that's what we live with, unfortunately, and that's the worst dimension for acoustics. Secondly, 12-foot dimensions are not good and you've matched the 8-foot and the 12-foot together and they're just not good at all. You then have two dimensions of the three in your room that are bad. The 8 – 12′ distances for the ceiling heights are welcome. Anything less than 14′ in width or a length is problematic and anything less than eight-foot is problematic in a height.
In Summary
If you would like your room acoustic issues analysed for free by me then please fill in the form here and I will be happy to take a look for you.
Thanks
Dennis