Acoustic Design Project
Musician, Producer & Engineer.
Worked for SSL, iQ Audio, American Music & Sound
Small rooms are two things. They are a reality today in the music business. They are also a nightmare when it comes to low frequency management. I have accepted both facts. I don't like it, but I must accept it and figure out how to successfully treat these issues. We introduced our three step tuning process to Donovan Stark. The answer is a successful marriage of our carbon ACDA-10 / ACDA-12 diaphragmatic absorbers coupled with our foam technology.
Treatment Quantity & Position
Our first step represents an 80 % improvement in the low-frequency management. In our database of over 100 rooms, I have the data on any room size from 10′ x 10′ x 10′ to 40′ x 40′ x 40′. This data shows us all low-frequency unwanted pressure issues below 100 Hz. If your room falls into this size/volume region, I can prescribe TAP: treatment type, amount, and positions. This treatment prescription will get you an 80 % solution. That may be enough for you to keep moving on with your room product and business. It may not. Donovan wanted to get as much as we could get in low-frequency management. He was looking to achieve greater than 90 %. After Phase I is in place we must go to step two and you have spent a few weeks listening and learning your new room.
You will now get to hear the low frequency issues in their true form. We assist you with taking the required measurements after the first series of units are installed with just using an iPhone. Once I have the measurements, I will prescribe a unit count and position. We will use a balance between the ACDA – 10 and the ACDA -12 performance to deal with what the numbers tell us we require. The positioning of new units will be critical and the measurements will tell us where we need more units. Remember every number tells us where it is located within the room We took the measurements, built more units and did the install. We achieved our goals but still at an issue at 63 Hz. This is a ceiling height issue and we went after it in Phase III.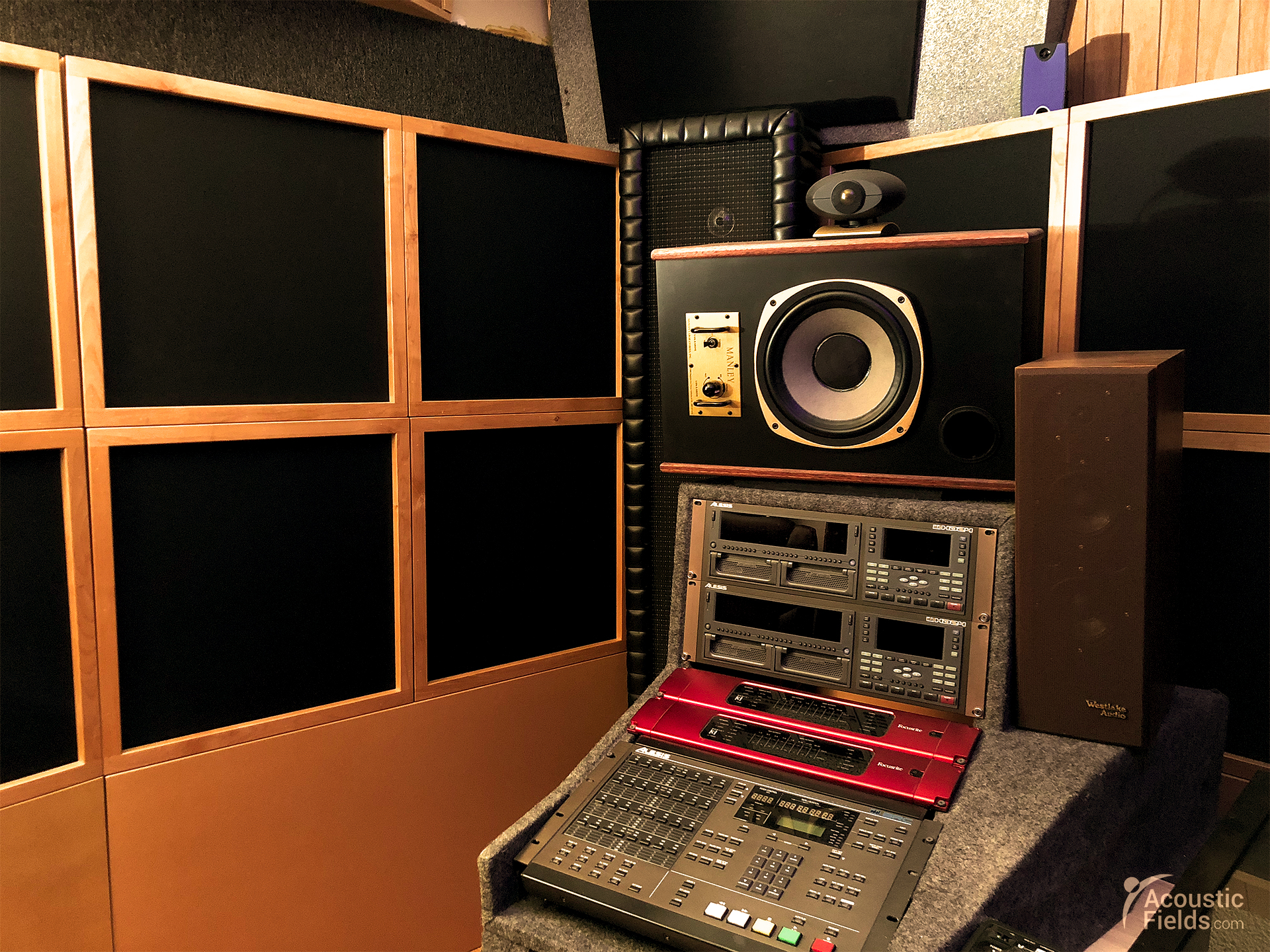 RTA Analyzer Test Results
The red dotted line is our low frequency start response or baseline. Lets focus on the energy below 100 Hz. Notice how linear the response curves are at 95 and 70 dB SPL. This balanced rate and level are critical for voice and music. This is the carbon and foam technology working together. Carbon below 100, foam all the way to 6,500 Hz. It's nice that 63 Hz. is not shy. It's easy to pick out in a crowd.
Predictable & Consistent Performance
Phase III will require an additional 10 units. Analysis showed that we needed a front wall and rear wall corner treatment. We built additional units and installed 3 on the front wall and 3 in each corner of the rear wall. We have included some frequency response photos of the room every 15 seconds to show the final result. Room treatment, especially in the low-frequency management side, requires a step by step process if you want to achieve maximum results. Each step you take is both a blessing and a curse. The blessing is less low-frequency issues. The curse is now you hear more that you couldn't hear before. It's like peeling a banana, each peel reveals another layer.
With our carbon technology, we have a technology that is both predictable and consistent in performance for each and every unit. We know the frequency, amplitude, and square footage attenuation with our technology and can go after any low-frequency issues below 100 Hz. If you are happy at 80 %, Phase I will work for you. If you want 90 %, you must go to Phase II. If you want as much as you can get from your room size/volume/usage and you have the 12″ of space requirement along all 4 wall surfaces, then you are in Phase III. To manage the low-frequency issues within your room, you must make the room smaller. Who would have thought?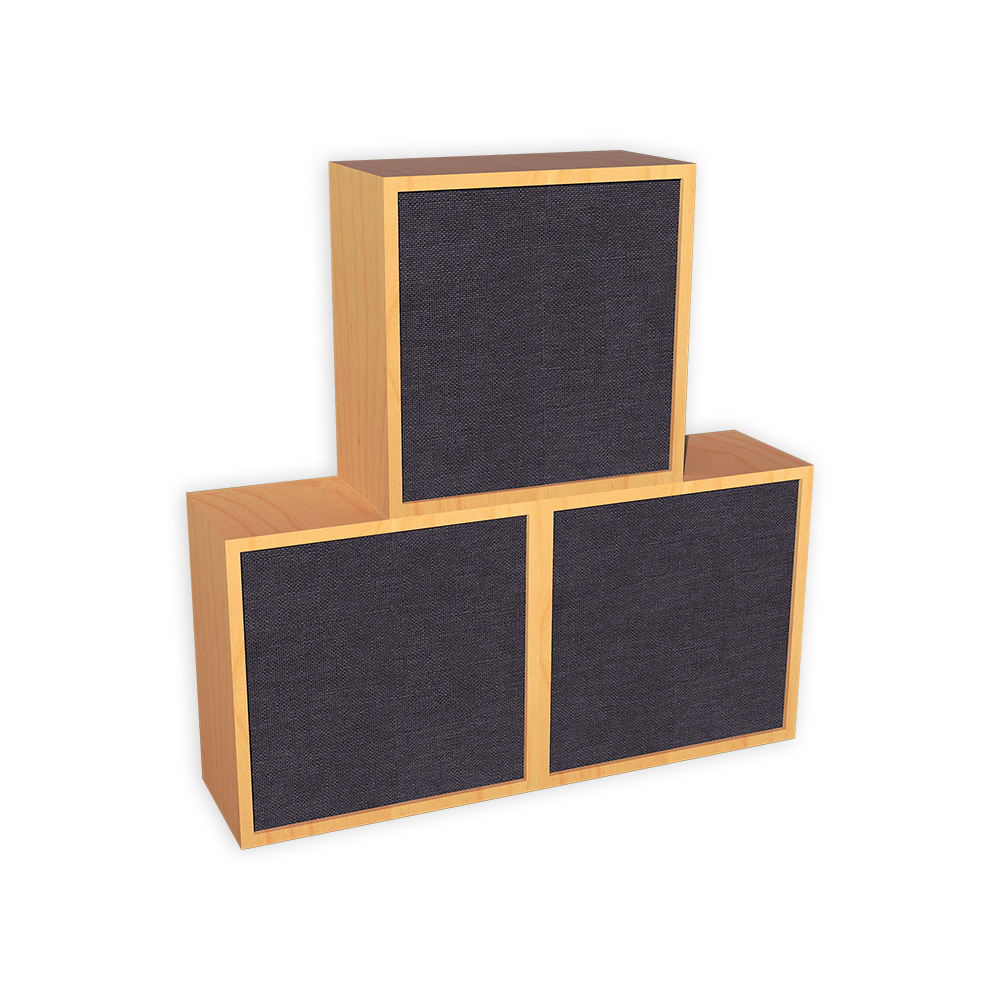 The ACDA -10 Modules are broadband absorbers that absorb energy from 30 – 6500 Hz. with an average coefficient of 25 % / octave. The ACDA -12 modules absorb from 30 Hz. – 50 Hz. with 35 % at 35, 63 % at 40, and 100 % at 50 Hz.
These are the most powerful absorbers every created. Each 24″ x 24″ x 12″ module weighs 65 lbs and incorporates our carbon and foam technologies. Using modular units of the ACDA, we can calculate the amount of units needed until sufficient low frequency absorption is reached for the specific room size, volume and usage.
Do you want to solve your room acoustic problems?
There's no one size fits all when it comes to room acoustics.
Get your FREE personal room acoustics analysis by chief acoustics engineer Dennis Foley.
Start my FREE room analysis
As a musician, Donovan started playing out professionally in the 60's while still in elementary school. Recording in major studios began in his teen age years with the popular San Francisco Bay Area band, Stark Raving Mad. Multiple demos and development deals lead to his desire to engineer and produce.
As a side man in the eighties, Stark was a member of a wide range of recording bands including XYZ, Buddy Miles and cow punk star, Scott Goddard. Recording these acts was always part of the mix and other notable bands hired Stark for demos and session work including Dokken, Steve Perry and members of Winger and Alice Cooper. In the late 90's, Stark build a Riverside based studio and production company. A Better Production focussed on contemporary Christian artists that released more that 50 titles on a variety of national labels.
By 2004, Stark was building studios for TV production companies and supplying gear to Pop Artists and Producers in Southern California including members of Blink 182, Red Hot Chili Peppers, Dweezil Zappa, David Kershenbaum, Jimmy Jam & Terry Lewis and many others. Successful console sales in 2005 led to a management position with Solid State Logic (SSL). World wide training and trades show assignments included the notable AES engineering role in Peter Gabriel's "Shed Of Your Dreams". By 2010, Donovan started his current assignment with American Music And Sound as Western Regional Manager for brands like Nord, Focusrite, Novation, Rednet, Fostex, Reloop, Lewitt, CAD, Xone, Kurzweil and Studiologic.
His love of music and high resolution audio has taken him on this latest adventure into the world of acoustics and with his new mix room by Acoustic Fields, the possibilities are endless.