When New York City recording studio builder and designer, Joe Salvatto of Salvatto Sound, first approached us about incorporating our activated carbon low frequency bass absorption technology into a new studio build he was working on, we were happy to assist. Joe was looking for a solution to the low end problem he was facing in the room and was not satisfied by the performance of any bass traps on the market.
Little did we know that the studio in question was for one Daniel Wyatt, Multi-platinum, Grammy and Emmy-nominated producer/engineer and instructor at his very own online mix and mastering academy Mix:Master Wyatt Academy. Daniel Wyatt is also the founder and senior engineer of www.wyattmixmaster.com, which provides mixing and mastering services world-wide. Daniels credits include Curtis Mayfield, Norah Jones, Mos Def, Doctor John, N'dea Davenport, Sugar Ray, Olu Dara, and the Roots to name but a few. His full biography can be seen here www.danielwyatt.com/biography/.
1. What was the brief the client gave to you on what he wanted for the design goals?
The client had a new studio built from the ground up. All acoustical issues were good except for some middle range resonances from 180 – 250 Hz. The resonance was occurring at the ceiling right above the DAW and along the rear wall area. Having an unwanted resonance in that frequency range over the work area is not acceptable. This is a critical frequency range for vocals, especially males. Having accurate translation in this frequency range is critical for this client's work and for all engineers of music.
2. When you inspected the room, what were the major challenges you identified that the room faced in trying to match that design goal?
With a new studio, you always want to be able to find places to put treatment that actually is in the location of the unwanted resonances. We had the ceiling and rear wall area. The client wanted this issue resolved and was willing to give up the required square footage to get it done. With low frequency issues it is not "Do we have the technology?". It is do we have the surface space to be able to treat the frequency and amplitude issue. Low frequency issues require lots of square footage surface area to treat. We had the ceiling surface space to install the correct broadband technology.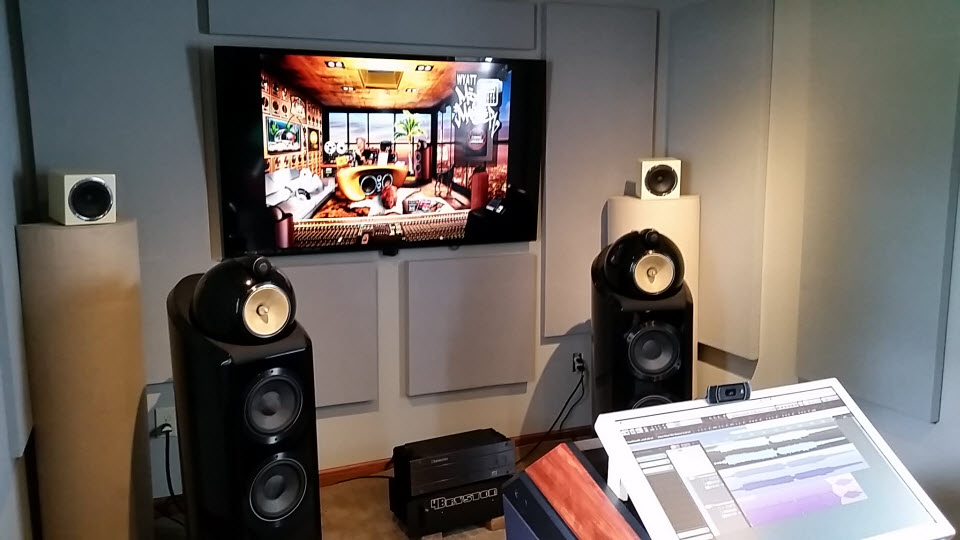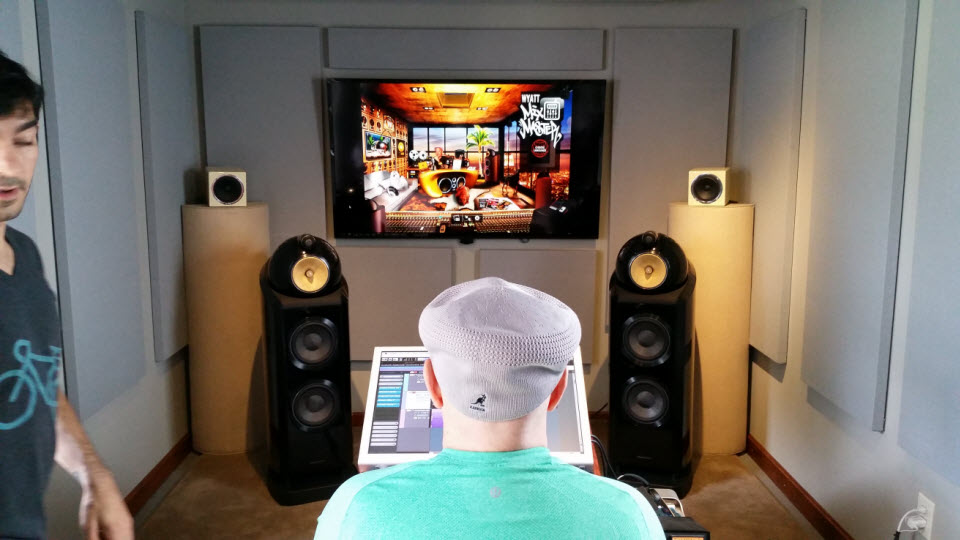 3. How did you overcome those issues?
Since both of these resonance issues covered two octaves, we chose broadband absorption from 30 – 400 Hz. The amplitude or strength of the resonances were not that severe, remember it was a new studio, so we could absorb 25% of it and make it go way at the listening or monitoring position using broadband low frequency absorption. The rear room scenario was the same.
Danny Wyatt's view of the end result
The following video charts Danny's experience with our technology and the incredible response it has received from A list engineers and producers including Luca Pretolesi (credits Tiesto, Skrillex, Bruno Mars, Savoy, Steve Aoki, Diplo) head engineer and director of Studio DMI, Chris Gehringer (credits Jay Z, Madonna, Rihanna, Nelly, Nas, Joss Stone, Nelly Furtado) senior mastering engineer at Sterling Sound, NYC, "Oh my gosh, this room is amazing! You can literally hear everything!" and Mitch "Catalyst" Cohn, the musical director for Chris Brown's world tour and Lady Gaga's Monster Ball Tour, "This room sounds insane! I haven't heard a room sound as good as this in a long time!"
So if you've never had the opportunity to experience our activated carbon diaphragmatic absorbers, then sit back, relax and let Danny be your guide as to what this audio experience is all about.