Our Special
Program For Churches
Subtitle goes here
Churches are large venues. With churches, we have left the small room and are now in a larger room, a much larger room. Instead of one seat as in a personal listening room or 4-8 seats in our home theaters, we have 250 seats. We can have a speaker system that could be termed a public address system. We can even have a band that plays in front of the house. We can have a choir along with the spoken word from the church leader. The congregation can even sing. Think about this. We can have 240 – 2″ speakers all producing energy into the room. With a band, choir, and congregation, we will have multiple sources spread throughout the room filling the room with full-range energy. Where does all of this energy go? It goes throughout the room and fills the room's volume with energy that then strikes the boundary surfaces within the church.

The surfaces that are most common in churches today are from two extremes. We have the standard drywall which has a negative impact on middle-range frequencies and then we can have granite, brick, or some other hard surface area. We usually have tall ceilings for the energy generated by the audience to reflect off of. In fact, the energy is reflected off of all the room surfaces. When we have all of this energy reflected off all the room surfaces, we have room distortion. This distortion conflicts with both music and speech. The technical term for this room distortion from the reflections off the walls and ceilings is called reverberation. Reverberation has a measurement number. It is called Rt-60. It is the time it takes for the energy generated within the room to decay 60 dB SPL. High reverberation times have a direct impact on speech intelligibility.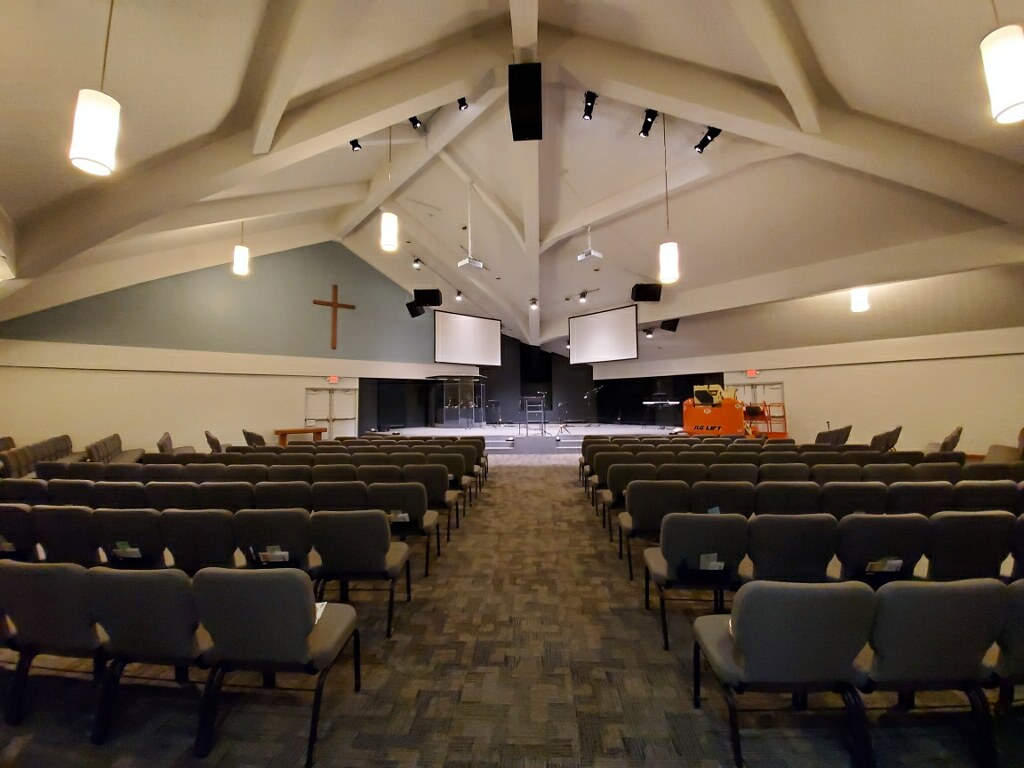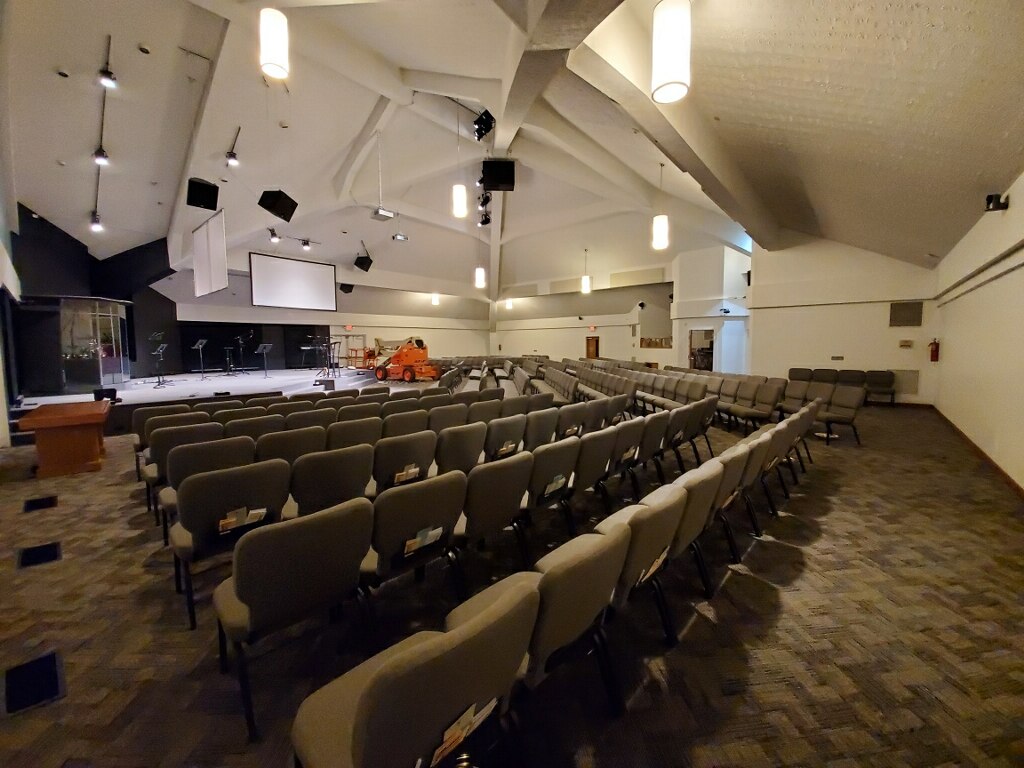 Speech intelligibility is an index that we use to determine how many words we can hear and more importantly understand the meaning of the word. Let's take a 10-word sentence. We have all been in rooms where we could not hear the person standing right next to us. While this may be fine in a social setting it is not welcome in a house of worship. We must be able to hear as many words as possible. Back to out 10-word sentence. If we could only hear four words from our sentence of 10 words, we would have a speech intelligibility index of 4. If we could hear eight words out of every 10-word sentence, we would have a speech index rating of 8. A speech intelligibility index of 4 is not acceptable. A rating of 8 is acceptable. If we lower reverberation times, we improve speech intelligibility. If we increase speech intelligibility, we can hear more of the spoken and musical words.
The Source Of The Problem
To lower the reverberation times in our churches, we need to go directly to the source of the problem. The source of the problem is the walls, floor, and ceiling of our churches. We need to treat every surface area with sound absorption technology that is causing high reverberation times. We can not use any sound absorption type. You must choose an absorption technology that has the proper rate and level of absorption that not only reduces our Rt-60 times but does so without over absorbing. Overabsorption is the nemesis of middle-range frequencies. Let's start with the floor. The floor is easy. We have people sitting in the seats of our 250 seat church. Every person in the seats has an absorption coefficient that is equal to 12 square feet of carpeting. With 200 people in attendance, we have 2,400 square feet of sound absorption material on the floor. This is enough surface area to deal with the floor as one surface area.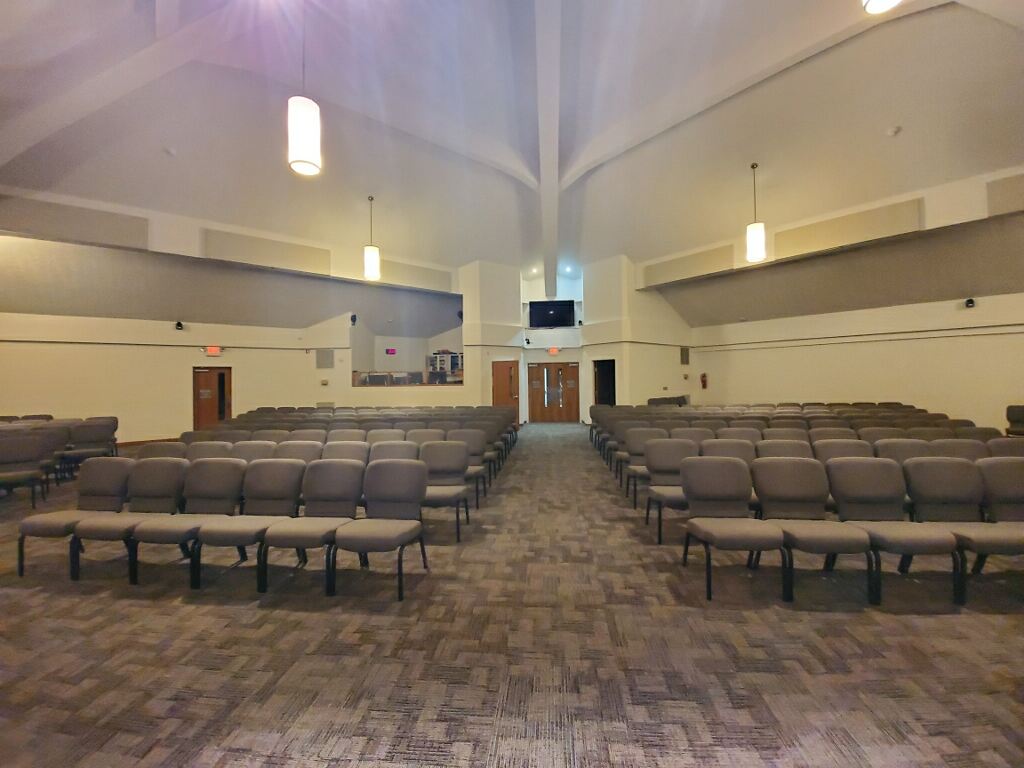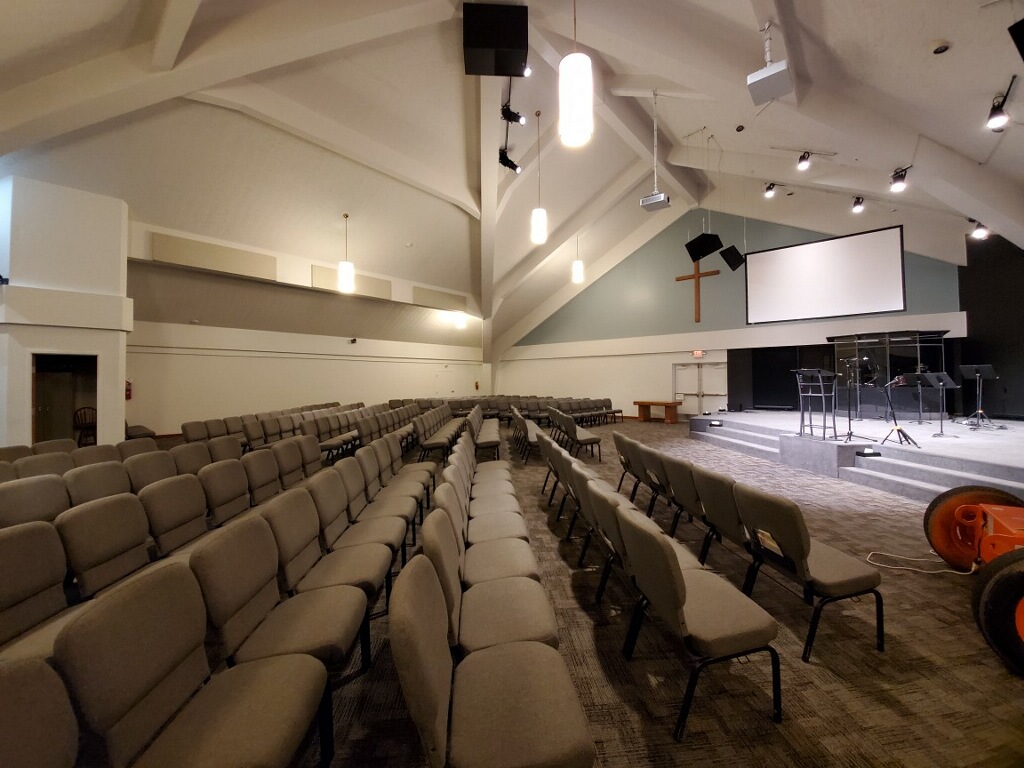 Critical Mass Of Coverage
The four walls and ceiling are the next areas we must treat. On average, we need to treat at least 60% of the walls and ceiling. We need to cover at least 60% of the surface area of the walls. This requirement is never met. Most churches we work with do not have that much space available. There are windows and ornamentation. All of these issues have to be worked around. It is difficult to treat the required square footage to lower the reverberation times when you have windows that can not be covered or ornamentation that can not be removed. With reverberation time management it is all about square footage of coverage on the offending surface areas. You must reach what we call a critical mass of coverage before we can have an audible impact on the issues.
Our Special Program For Churches & Schools
We offer a special program for churches and schools. We normally charge a design fee for our services. This design fee covers the analysis time to determine how much material we need on each wall surface. We waive the design fee for churches and schools. We also grant a price reduction in the materials purchased from us. We can do the design work and then provide a discount on the raw materials you require. We send you our foam and carbon technology and you have congregation members build the supporting cabinets and structures to install the materials on the room boundary surfaces. This arrangement allows for constrained church and school budgets to purchase more materials to accomplish the reverberation time reduction objectives.