Acoustic Foam – Smooth Absorption for Voice Over Artists
Fed up with the room echo in your recordings? Tired of always having to set up bulky and expensive baffles which still don't completely eliminate the reverb in your room? As a voice over artist this is the last thing you should be worried about and yet that will always happen when you record voice in an acoustically untreated room. Your room can blur and smear your precious vocals leaving you with a compromised recording experience. It can affect the quality of your work whilst also needing your time and attention to edit out in post production.
Well that can all be a thing of the past if you treat your room with the acoustic foam from Acoustic Fields. Our foam is designed to get your room out of the way so you can improve the definition and clarity of your voice over recordings. We put the focus on making your voice the most important element in the presentation so it can shine through and allow your listeners to experience the nuance, intimacy and timbre of your voice as it is meant to be heard.


We absorb more lower frequencies. And our foam absorbs in a smooth gradual way
all the way up to 1,000 Hz. so your vocals are smooth and not over absorbed/deadened.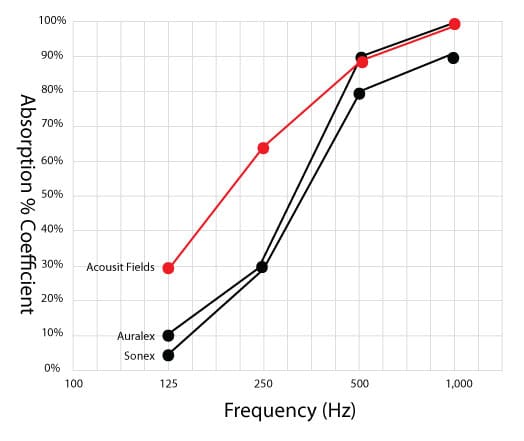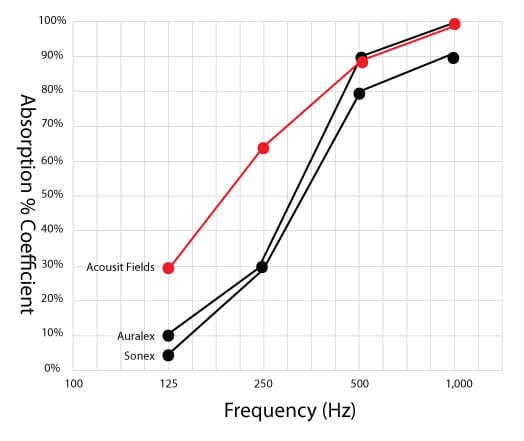 Quite simply, that red curve above is the difference between OK and outstanding voice overs.
What Will You Experience?
You get a technology that was developed specifically for voice with more absorption below 250 Hz. than standard foams, and a smoother absorbing curve from 125 Hz. – 500 Hz. which is the heart of the vocal frequencies. It means you can enjoy clearer and cleaner voice definition so your audience can have a more intimate experience with your voice.
You get a technology that will manage side wall reflections so well that your microphone will hear the direct sound from your voice, which is the purest kind as it is the sound that does not contain the room. This will ensure you can hear the purest sound the artist and engineer recorded so that your vocals and middle range instruments will pop out for you in your room.
You will get a technology that absorbs at the correct rate and level for voice ensuring it does not drain the life out of your room like so many other foams. You wont be destroying precious sound energy through over absorption like so many dreaded "dead room" studios. Instead you will hear the intimate timbre of your voice in every recording ensuring you have a room others will envy.
That's Not All!
If you order the PFP Acoustic Foam today you will also get:
– A free one hour phone or video consultation on your room mode issues with me, the products inventor, Dennis Foley
– Free enrollment in our exclusive Platinum members club for Professional Studio Engineers and Audiophiles
– A 100% risk free 30 day money back guarantee
– And wall mounts so you can hang the units on your wall and move them in and out of your room if your recording room serves multiple purposes.
Enough With A Compromised Recording Experience
I didn't like what was already on the marketplace because it didn't bother going after 50% of the human vocal range! I thought that was unacceptable given how important voice is to me, my friends and no doubt you. I figured if other companies weren't prepared to invest the time and energy to get the solution voice over artists so deserve then someone had to and, luckily, I was in a position to do just that.
Limited Stock
Act now as this price is going up again shortly so don't miss out. As the exclusive designer and manufacturer of this acoustic foam technology you cannot buy it in any other store or on any other website.
If you're sincere about wanting sonic perfection, then this is most definitely for you. Don't live with a compromised recording environment for a minute longer. Take action now, believe me, you'll thank me for this, for years to come.
Thank you
Dennis Foley
Inventor & Owner of Acoustic Fields
P.S. But Don't Just Take My Word For It…
Acoustic Foam Testimonial 1. by Javier Weyler, Professional Audio Engineer and Drummer http://en.wikipedia.org/wiki/Javier_Weyler, London. Javier has been a Professional Audio Engineer for 15 years and played in BRIT Award winning UK rock band The Stereophonics http://en.wikipedia.org/wiki/Stereophonics for 8 Years. Here he discusses the Acoustic Fields Acoustic Foam.
"It makes the room sound much more natural. For instance, a vocal tends to sit better in a track. Your whole mix just becomes clearer as there's more definition between the different instruments and frequencies which obviously helps you as an engineer or producer to get your mix sounding right as you have a better knowledge of where things are."
Acoustic Foam Testimonial 2. by Professional Voice Over Artist Ken Theriot of Home Brew Audio.
Acoustic Foam Testimonial 3. by Don Salter, owner of Saltmine Studios.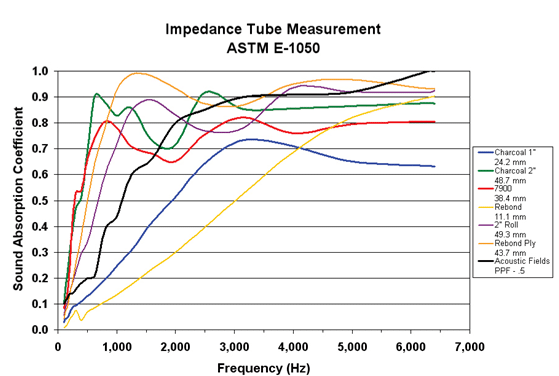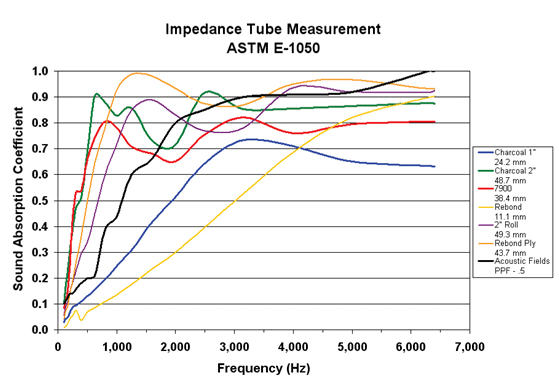 LISTEN TO THE MUSIC WITHOUT HEARING THE ROOM