ACDA-12
Activated Carbon Diaphragmatic Absorber
Are you tired of muddy and sloppy bass making you second guess your mix? Tired of not connecting with your music the way you know it's possible? Frustrated by the lack of an emotional connection with your songs despite investing a crazy amount of money into your amp, speakers and hi-fi?
Imagine being able to hear incredible bass separation and definition in every piece of music you play and enjoying the sound of your music coming to life as your mids and highs pop like you always dreamt possible. Imagine being able to experience crystal clear attack and decay in each individual bass note in every piece of music you listen to.
With the ACDA-12, you're going to feel the power of every single bass note in a way that few ever get to hear. It's that connection to the music which makes all the difference to your enjoyment of it. It's the dynamics and separation of instruments with crystal clear clarity definition, which creates the spine tingling, hairs on the back of the neck sensation that you desire so much from your mixing efforts and music collection.
What's Different?
I invented the ACDA 10 and ACDA 12 Diaphragmatic Absorber units because I was unhappy with all the current products on the market that called themselves low frequency absorbers as they were nothing of the sort. I wanted true separation of bass sounds below 100h Hz, where the real magic in bass happens, and nothing commercially available even came close to providing me with the sonic experience I craved.
So I took the low frequency absorber walls I had designed, built and tested over a period of 8 years for professional offices, and worked with my team on developing a free standing unit that could be moved around a room as desired. Within 2 years we had a rigid cabinet structure and design in place but I knew I needed a cabinet fill material that would compliment the cabinets performance if I was to achieve the performance level I needed to really tame room modes, not just pay lip service to the concept. My stroke of luck came when I discovered the activated carbon internal fill material quite by accident.
I was working late one night and was stood over the kitchen sink when I noticed the water filter light was flashing. Struggling to remove it, I decided to hit it with a hammer and out poured all these small black pellets. On closer inspection the pellets looked liked miniature meteors, each full of thousands of microscopic holes, so I realized that if these small granules were filtering water and air then maybe they would help filter sound!
Further research indicated that activated carbon has a huge amount of surface area per gram of material, 2,000 square meters in fact! And with all of this surface area packed into such a small amount of space, I now had the secret, powerful fill material ingredient that could provide the horsepower audiophiles and professionals require to manage bass energy effectively. 8 further years of research and development later I now give you the ACDA 10/12 units.
What Will You Experience?
You get pound for pound the most powerful activated carbon diaphragmatic absorber available, in a free standing unit, in the world today, which gives you unprecedented attack and decay clarity in every bass note, so you can mix without second guessing and enjoy your music like you never thought possible.
You get 65 lb's of activated carbon, 7 layers of constrained layer mass damping materials and two front walls in your unit which means you will experience a well defined, low end so your mids and highs will pop at you making your entire listening experience far more enjoyable as you open up a whole new dimension to your music.
You get low frequency absorption from 30 Hz. to 100 Hz. which gives you attack, decay, definition and tonal qualities, that you won't have ever heard in your music before because of the way your room gets in the way. You'll hear exactly what you want to hear when mixing without having to second guess your mix because of your room.
You get a moveable unit which can be wheeled in and out of your listening room or control room which gives you the flexibility to use your room in more ways than one without complaints from your partner as you can still return the room to its other uses when required.
The effectiveness of the box is exponential, the larger the room, the more boxes you need. But in the end the result is nothing short of amazing! Once you introduce the absorbers into the room, the effects are noticeable immediately.
Joe Salvatto, Recording Studio Designer and owner of Salvatto Sound, New York City. Clients include 50 Cent, Billy Joel and many more.
With the sound absorber panels it's changed my whole musical experience! It's given me depth in my music listening. The musical experience alone is more listenable, the instruments sound more like instruments.
Bruce Hallberg, Audiophile for 40+ years.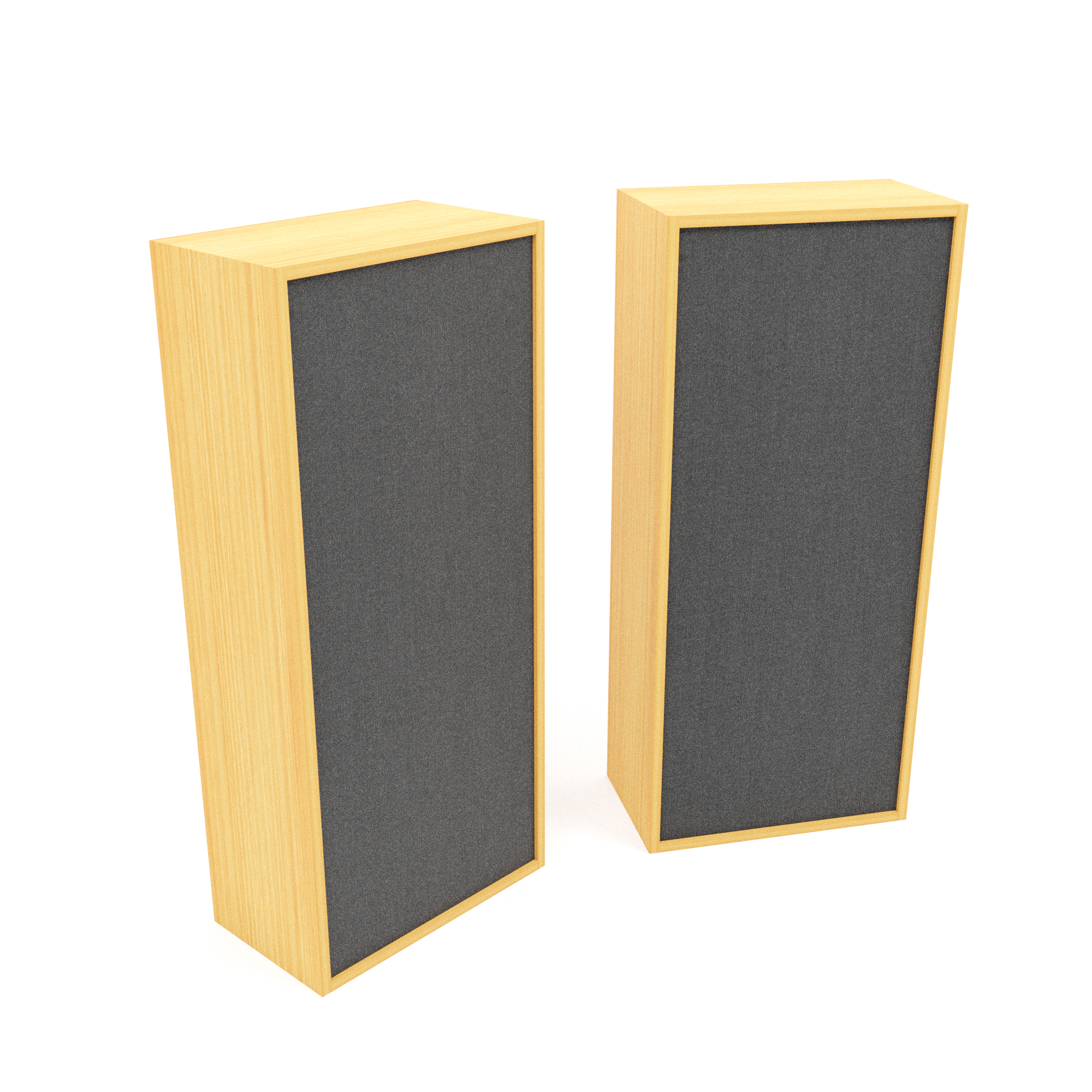 Diaphragmatic Absorption:
Time Tested And Proven
1. Dual Front Wall – The front wall in all of Acoustic Field's diaphragmatic absorbers is not just a single wall. It is a dual wall structure that has been designed to increase the rate of absorption by increasing the level of energy that is slowed down before entering the internal cabinet fill material. With a dual wall face that is designed with sympathetic vibrational technology in place and having both dual wall, front panels that are designed with the proper density and air space between them to insure maximum movement in sympathy with each other, greater absorption rates and levels are achieved. When sound pressure energy strikes this dual wall, front face assembly, it is slowed down by a factor much greater than a single wall.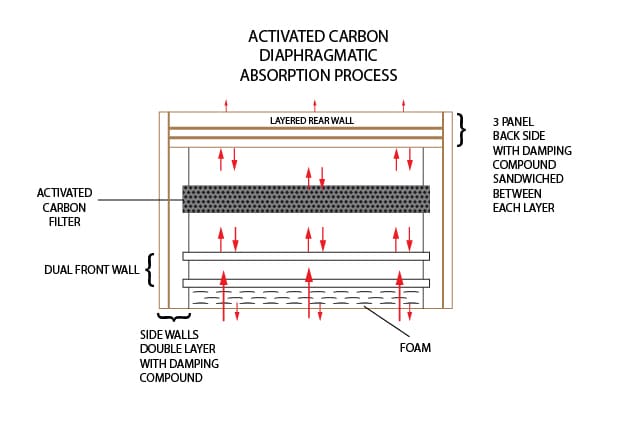 2. Stronger and More Rigid Cabinet – Cabinet rigidity and density has been increased using multiple layers of materials with different densities to insure maximum cabinet rigidity, so that the front dual wall construction is encouraged to vibrate. Viseo elastic compounds are used between each cabinet layer to insure that vibrational energy is minimized from the cabinet itself.
3. Activated Carbon Lowers Cabinet Q Value – The internal cabinet fill of standard building material, mineral fibers, has been replaced with activated carbon. Activated carbon is a fancy name for charcoal. Activated carbon has a high degree of porosity which contributes to its high rate and level of absorption over standard building type insulation. The rates and levels of low frequency absorption created by Acoustic Field's activated carbon diaphragmatic absorbers have never been achieved until now for a commercially available product.
Features
Our ACDA-12 is our activated carbon, diaphragmatic absorber with low frequency absorption from 30 Hz. – 50 Hz. See our ACDA 12 Riverbank Acoustical Labs Testing Results for more specific performance information on our ACDA – 12. The face of the unit can be used to support one of our foam absorber thicknesses or one of our mini-diffusors in our MDP line. Units are designed with rigid side and rear walls and a dual wall, front panel construction that increases diaphragmatic action. The inside of each unit contains 65 lb's of our activated carbon filters which increase the unit's Q value through acoustical compliance enhancement (ACE). This activated carbon filter process is unique to low frequency absorbers and is patent pending. Solid wood and paint finishes are available. Each unit measures 60″ tall, 30″ wide, and 16″ deep. Each ACDA-12 unit weighs 225 pounds.
Benefits
The ACDA -12 is our strongest performing product in a low frequency range that produces the most issues in 95% of existing rooms. It is designed to absorb at high levels with a 20% absorption capacity at 30 Hz., 63% absorption coefficient at 40 Hz. and a 100% absorption coefficient at 50 Hz.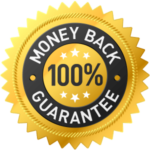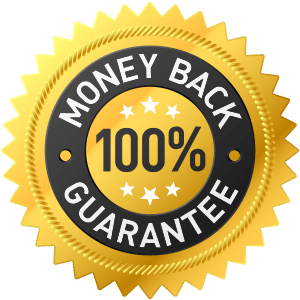 We stand 100% behind our product performance levels so we are happy to offer a 100% Money Back Guarantee* if you are unhappy with the performance results, for any reason.
Enough With A Compromised Listening Experience
Other manufacturers didn't think it was possible or worth the time and money going after the low frequencies we've gone after. They thought it was impossible to achieve in a free standing unit and, in some cases, changed the definition of low frequency so that their so called "bass absorber" performance matched their exaggerated definition. Well talk about moving the goalposts and trying to pull wool over people's eyes. We aren't having it and are calling it out now. Enough is enough.
Our low frequency absorption rates have been independently tested and verified by the World famous Riverbank Acoustical Laboratories. You can see their report here: ACDA 12 Riverbank Acoustical Labs Testing Results and the graph below shows the absorption levels verified in the report… Yes it's true, the ACDA 12 absorbs 100% at 50 Hz. and does a great job all the way down to 30 Hz.!

So if you've bought what you thought was a low frequency bass absorber and its not dealing with frequencies below 100 Hz., then you're missing out on a world of incredible sounds and pleasure in your music. With the wrong room dimensions, you will actually not hear some bass notes at all, no matter how high you turn your system up! You might as well bury your speakers 2 ft underground such is the equivalent blurring of the sounds you're missing out on in your music.
So avoid listening to thick and muddy bass for a minute longer. You're missing out on so much more from your music than you could possibly imagine, which is no doubt leaving you frustrated by the sound from your expensive amp and speakers.
Act Now
As the exclusive designer and manufacturer of this product and technology you cannot buy it in any other store or on any other website.
This product is for serious recording studios, Audiophiles and home theater builders only. If you're serious about wanting sonic perfection in your low end, then this is most definitely for you. Don't live with a compromised listening room and room sound for a minute longer. Take action now, believe me, you'll thank me for this, for years to come.
Thank you

Dennis Foley
Inventor & Owner of Acoustic Fields